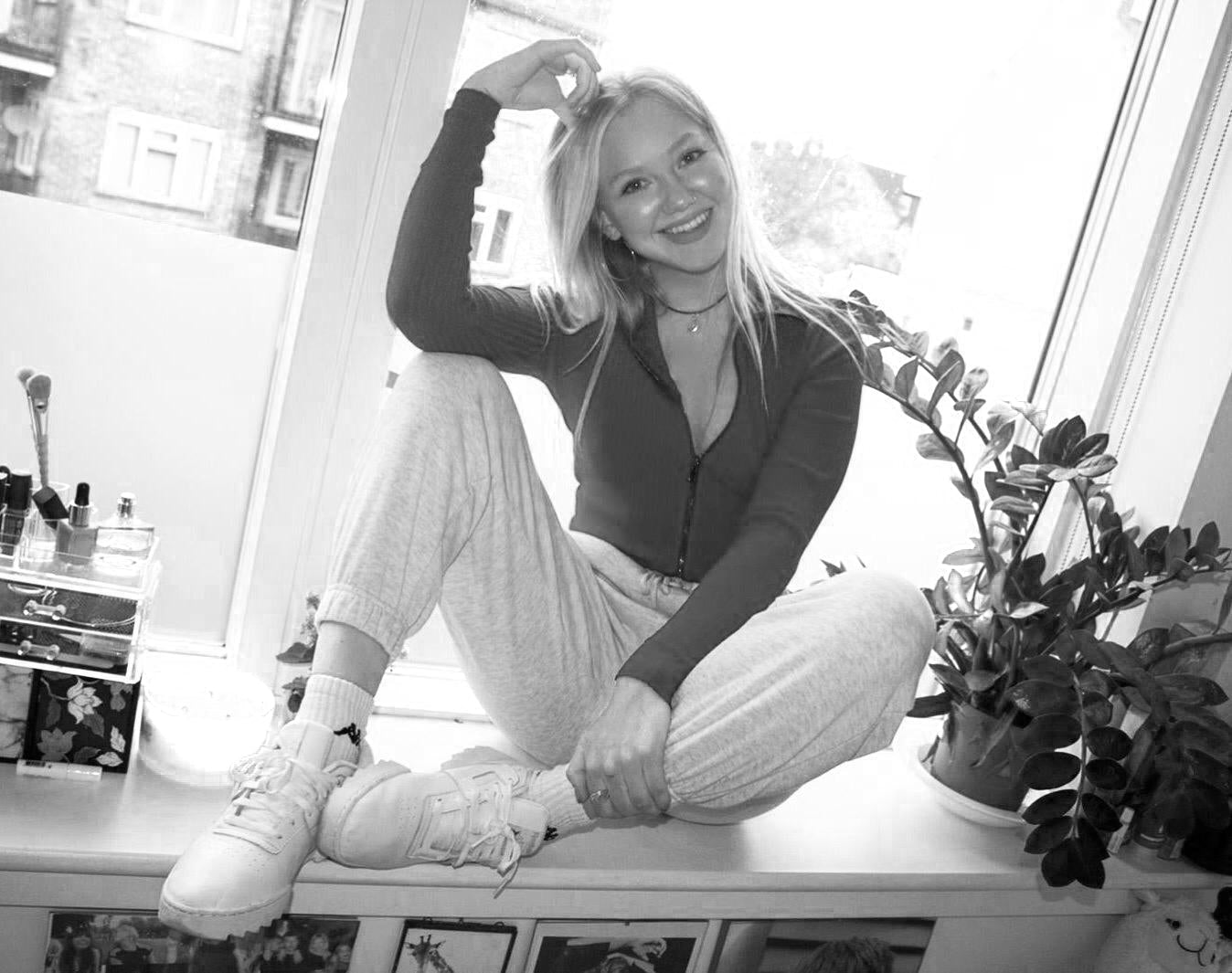 Annabelle Lowes: navigating mental health around a cancer diagnosis
Having finally got to grips with managing her anxiety, Annabelle was then diagnosed with breast cancer at the age of 27 years old. From imposter syndrome to an underwhelming end to treatment, she tells us about the toll it took on her mentally and how she's now regaining some balance. 
As part of our 'How Are You, Really?' series where we check in with members of our community about their physical and mental health, we spoke to Annabelle Lowes who has recently noticed improvements to PMS-related low mood after three weeks of taking our MOOD supplement. Annabelle was just 27 years old when she was diagnosed with breast cancer. Celebrating Christmas Day in London with her boyfriend at the time, they'd settled down to watch a movie when he questioned a previously unnoticed lump at the top of her right breast.
"I went really red in the face and explained that I didn't know what it was. It felt like a hard peanut under the skin, was painless and didn't move. I called the doctor to book an appointment the next day but because of the holiday, I couldn't be seen until the week after. When I went, the doctor reassured me that women of my age can get harmless cysts, and she was about to dismiss me and advise watchful waiting, but at the end of the consultation, she arranged for me to have a biopsy to get it checked just in case. In mid-January, I had a biopsy on both breasts, and my results kept being delayed which was obviously very worrying and had a massive impact on my anxiety. Finally, my results told me that it was stage I grade II hormone receptor-positive breast cancer which meant that I'd have to have a lumpectomy, radiotherapy and most likely chemotherapy because of my age and the rarity of having breast cancer under the age of 30.
Since my breast cancer was specifically related to oestrogen, when I started my treatment I had to change the contraceptive coil (the hormonal IUD) which I'd had for five years. It was the perfect hormonal contraception for me, levelling out the feelings that I'm now experiencing again; this really obvious up and down in the month from having PMS. When my period is due, I'm so low, I struggle to get out of bed, I have no energy and I'm super irritable—all of those typical symptoms which you can identify but it doesn't make any difference, you still feel awful.
I've always struggled with mental health, predominantly anxiety but also depression for a range of different reasons, most likely just because of my genetic makeup. Anxiety affects me the most: at one point, I felt like I lost half of my personality. It felt like it just happened overnight, and suddenly I had come to a point where I didn't feel like myself and it was really hard to put my finger on. I went to a doctor at the start of 2017 to explain how I felt because I was at a loose end and reluctant to try antidepressants because I'd been told by some people that if you can, don't take them. I'd tried CBT (cognitive behavioural therapy) alongside some general counselling a couple of years before which works brilliantly for some people but it just didn't feel like the right fit for me, so I began taking antidepressants on his recommendation.
By the end of 2018, I felt much better and didn't want to be taking them long-term so had actually weaned off just before my cancer diagnosis the following January. It didn't cross my mind to go back on them as I was having so much other treatment, but my mental health issues skyrocketed—I became super anxious and strangely nostalgic: I thought about school a lot and had vivid dreams about being a child. I was also experiencing a severe case of imposter syndrome because there were so many women in the breast cancer unit who were clearly much more unwell than I was (I didn't end up having to have chemotherapy because of how quickly the cancer was caught). My anxiety made me feel like I wasn't ill enough to be using all these resources because I was able to go out to meet my friends and have a drink, but when I was doing that, I felt like I was cheerfully covering up the fact that I really wasn't well.
Mental health support during my cancer treatment was really good as the hospital where I had all of my treatment has a resident psychotherapist and Macmillan cancer charity on hand. I think the NHS is brilliant and they do as much as they possibly can in terms of looking after all aspects of your health, physical and mental, but you have to be proactive and seek out resources because they just don't have the time. It's a hard thing to do because you lack motivation when your mood is low, and when you do feel good, you don't want to acknowledge the days you feel bad so it can be a never-ending cycle. Instagram was really helpful; there's a huge community out there if you need it, with inspirational people like @sunshine_survivor who I connected with.
What seems to happen to a lot of people when they finish cancer treatment is that they feel very out at sea. When I was first diagnosed, everyone immediately wrapped me up in cotton wool. I had no time to worry as I got put straight into treatment on the NHS—I had my surgery the week after I was diagnosed so it all happened so fast. When I finished, I got that feeling of wanting to be looked after and not knowing what was next. 
I thought becoming cancer-free would be more momentous but I found it to be a bit anti-climatic. I've learnt that cancer is a word that encompasses so many different types of illnesses: one isn't like the other although they're all under the same bracket. A lot of people who finish their treatment go through months of chemotherapy which is incredibly strenuous and difficult and so they have a very different end of cancer treatment. I'm learning not to play it down but it just wouldn't have seemed right for me to have a big celebration. I now just have yearly mammograms, and my first one back in February came back clear so of course I'm incredibly thankful but what I have to remember, and what they told me, is that its never going to go away. It's always going to be in the back of my mind, affecting what I do and don't do, and how I take care of myself. I feel like it's defined me so much over the past two years that it's almost weirdly hard to let go of it. Then I realised I shouldn't try to let go. I can still have that big part of my life but also move on and be happy.
I've learnt to know my own body, so although I'm generally happier than I was pre-cancer, if I feel anxious, I might do yoga or use small meditation techniques to help like acknowledging a thought as it comes and goes and being a spectator rather than experiencing it. For example, if I feel a horrible wave of dread coming on, I acknowledge it but try not to dwell on it. I try compartmentalising too, where I allow myself a bit of time each day to feel anxious and then try not to feel it the rest of the day.
I've been taking MOOD last thing at night for the past three weeks. I've put together a bedtime ritual of applying hand cream, lighting some incense, taking my makeup off, and lastly having a big drink of water with my supplement. It's very comforting—not only do I feel that I'm taking something that has a direct impact on my health, but it also has a positive psychological effect. It's less clinical and feels more like an act of self-care. Since I've been taking it, I haven't had that noticeable PMS-related dip in mood and think that it must be the vitamin D and B vitamins because I have a vegetarian diet and don't take any other supplements. The fact that it's been such a short time since I've been taking it yet it's made me feel so much better is crazy.
I like that it's a more natural solution to managing the side effects of my fluctuating hormones plus day-to-day life; we're all going through this unprecedented circumstance at the moment which is having an effect on everyone's mental health. It's nice to have something that I can rely on to boost my mood without the side effects I got with antidepressants like night sweats and feeling spaced-out. I also think it helps to acknowledge that it's okay to not feel okay; we're all still growing and going into a new decade together."