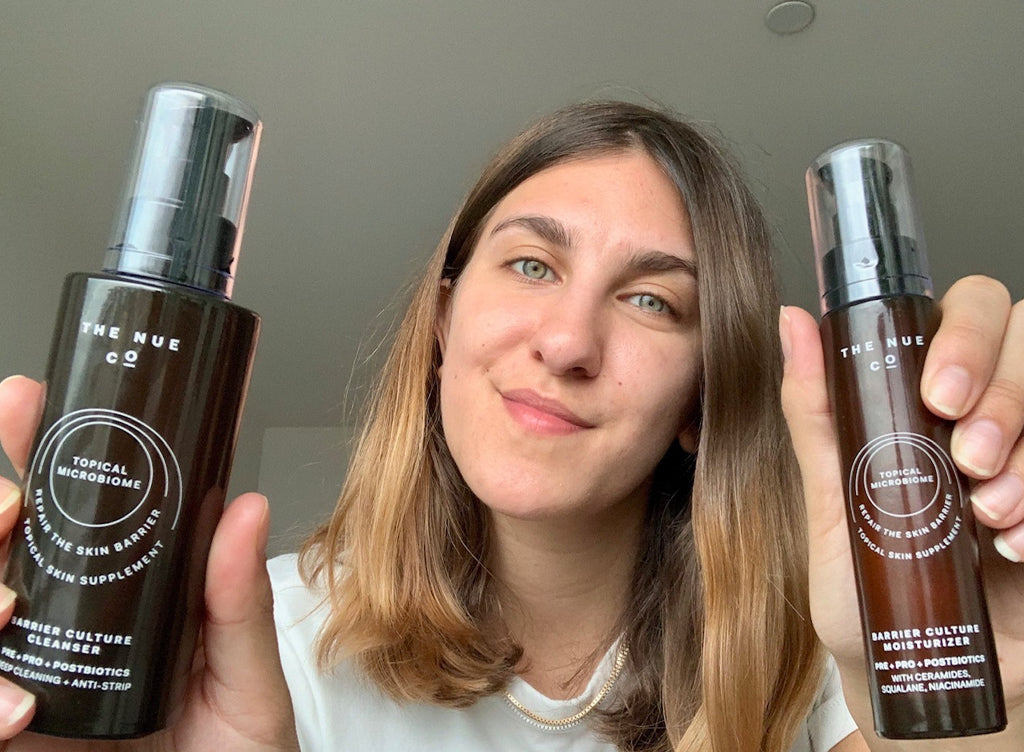 "I feel like my skin is finally getting what it needs"
Zeena from London trials new BARRIER CULTURE cleanser and moisturiser.
Zeena Al-Faham, 25, is a Personal Assistant based in London. Experiencing skin issues since the age of 11, exacerbated by fluctuating hormone levels and stress, she has been battling acne and excess oil in the search for more balanced skin.
She trialed BARRIER CULTURE, our new cleanser and moisturiser, for the recommended 6 weeks and has finally regained control of her oily skin. Read on to discover Zeena's skin journey.


How would you describe your relationship with your skin?
I've had consistent issues with my skin since being a teenager. I tried various medications for my acne, all usually with the goal of completely drying out my skin. I was always quite reluctant to try a lot of skincare products for fear it would increase how oily I already was so I have only just started exploring skincare properly in the last two years.
What affects your skin the most?
My hormone levels have a negative effect on my skin—during my period I get really bad breakouts around my chin. Sunlight has the most positive effect on my acne, as well as keeping my stress levels low. My diet and water intake also affect how oily my skin is.
Do you have experience with your skin changing with age, relocation or medication?
The biggest change in my skin happened when I came off the contraceptive pill. I was on the pill from age 14 to 24, so my breakouts became considerably bad when I stopped taking it. Age hasn't really affected it as I have always suffered from acne.
Describe your usual skincare routine.
I would wash my face in the morning and evening with an oil-free face wash, apply anti-blemish gel to any breakout areas, and would apply my oil-free moisturiser on days where I felt I wasn't too oily, which was rare!
What did you like/not like about your usual skincare routine?
I didn't like the anti-blemish gel as it was quite harsh and had a strong chemical smell but it worked (for the most part) so I continued to use it. I also didn't like that I felt I couldn't apply moisturiser every day for fear it would increase how oily I was.
What do you look for when buying skincare?
Nice packaging, eco-friendly brands, and products exclusively geared to oily skin containing salicylic acid and witch hazel. I would shy away from anything that had 'hydration' in the title.
How would you describe your skin before using BARRIER CULTURE?
Oily, dull, full of breakouts, with lots of blemish scars and hyperpigmentation.
Have you noticed a difference since you have been using BARRIER CULTURE?
Yes, it has brightened up my skin and made me feel less dull—the moisturiser leaves my face with a dewy glow which I love. I feel like my skin is definitely producing less oil and that it is finally getting what it needs rather than having something stripped away (which is what my old skincare products would do).
How do the products feel when using them?
The cleanser is a different consistency than what I am used to as it doesn't foam up much but I prefer this as it doesn't feel like it's jam-packed with chemicals, and it glides onto your face easily when applying it. The moisturiser has a great consistency; it's lightweight and not too thick but doesn't feel loose or runny when applying it. It leaves my face and hands feeling smooth and hydrated but not oily.
What have you learned since using BARRIER CULTURE?
I used to believe that because I had oily skin I needed to use products that would strip my face of the oils and dry it out to avoid breakouts. BARRIER CULTURE has shown me that if you provide your skin with the nutrients it needs then it won't produce excess oil. I am moisturising my face every day for the first time in forever because I am confident it is not adding to my excess oil levels. I have learned to be less harsh on my skin by only washing my face once a day, and pat drying with a towel rather than rubbing hard to 'hopefully remove any leftover oil'. I have also learned that foaming cleansers actually just include unnecessary chemicals that aren't needed in order to feel clean.
Shop BARRIER CULTURE now.