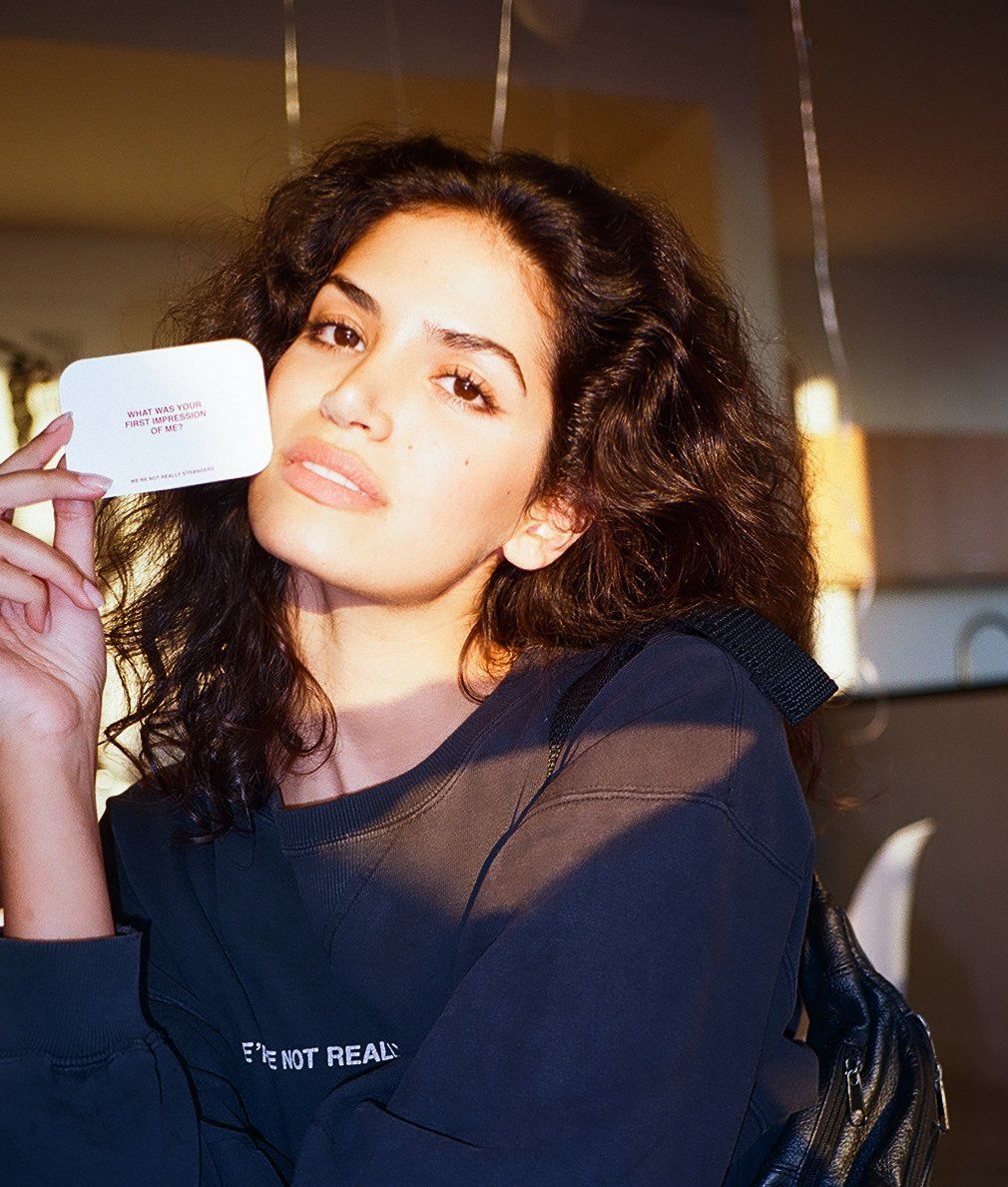 10 Questions with Koreen Odiney
An interview with the We're Not Really Strangers creator on mental health, 50 Cent, and our "How Are You, Really?" campaign.
Koreen Odiney wants you to open up. Working as a photographer, she found that her camera gave her a new method to access people, which she likes to describe as a "passport" of sorts. The more she photographed people, the more she learned about them, and realized a few important things: A., that making a connection with anyone was possible given the right circumstances, and B., that there needed to be a way to create those circumstances. 

Her solution? We're Not Really Strangers, a card game comprised of questions that are intended to spark a dialogue and create organic relationships by showing complete strangers their similarities. Since its inception, WNRS has expanded into a movement whose goal is to make those organic relationships possible for anyone, anywhere.

This month, we collaborated with Odiney for the "How Are You, Really?" campaign, in which we worked together to rebuild a positive relationship with wellness, by addressing some of the harmful tactics traditionally used by the wellness industry. During the campaign, we got a chance to turn the tables and ask her a few questions (one even from her game!). Here's what we learned:
What brought you to photography?
 After my first heartbreak at 16 I started asking strangers if they ever got over their first love. Their answers gave me perspective on what I was going through and the connections were healing. From there I just kept going and using my camera as a passport to ask anyone anything. 

In your words, what is the goal of We're Not Really Strangers?
To empower meaningful connections. To make us feel less alone. To broaden our empathy. To reconnect with us with ourselves. 

Are there any universal similarities that you've discovered while photographing people?
Everyone loves feeling acknowledged. And being asked about themselves if you're genuinely interested in hearing their answers. 

If you could help it, what would you like to see WNRS become/where would you like to see it go?
I'd like to see it become a global movement. I have so many goals and visions of what it can be. Events, a digital experience, a show, and so on and so on. Ultimately I'd like to see it grow and evolve into whatever form best suits its mission: to empower meaningful connections. 

What do you think is the biggest health misconception?
That one size fits all. 

What are three things that you do each day for your mental health?
-Workout 
-Connect with other humans 
-Ask myself the right questions and answer truthfully. 

Why did you choose to partner with The Nue Co. for the "How Are You, Really?" campaign?
Our intentions were so aligned. To create a campaign around self awareness is my dream scenario. I love that Nue Co. is all about promoting self awareness and listening to ourselves. Often companies want to come in and say "Do this" or "Listen to us" when in reality we know ourselves and our bodies so well but we have to tune in. 

I'm so excited by the concept of how we can better know ourselves for better inner and outer health. And to do that through the art of questions. 

What do health and well-being look like to you?
Having a strong energetic body and a calm mind. 

One thing most people don't know about you?
I know every 50 Cent song because that's all my mom played when I was younger. 

What's your most defining characteristic? (Taken from the WNRS game)
My curiosity :) 
Throughout the month of October, a percentage of all Nue Co. sales will be donated to The JED Foundation, a nonprofit that partners with high schools and colleges to help strengthen mental health, suicide prevention, and substance abuse programs.  We will also be donating as well as 100% of the proceeds from our limited edition "How are you, really?" t-shirt. Buy yours here.