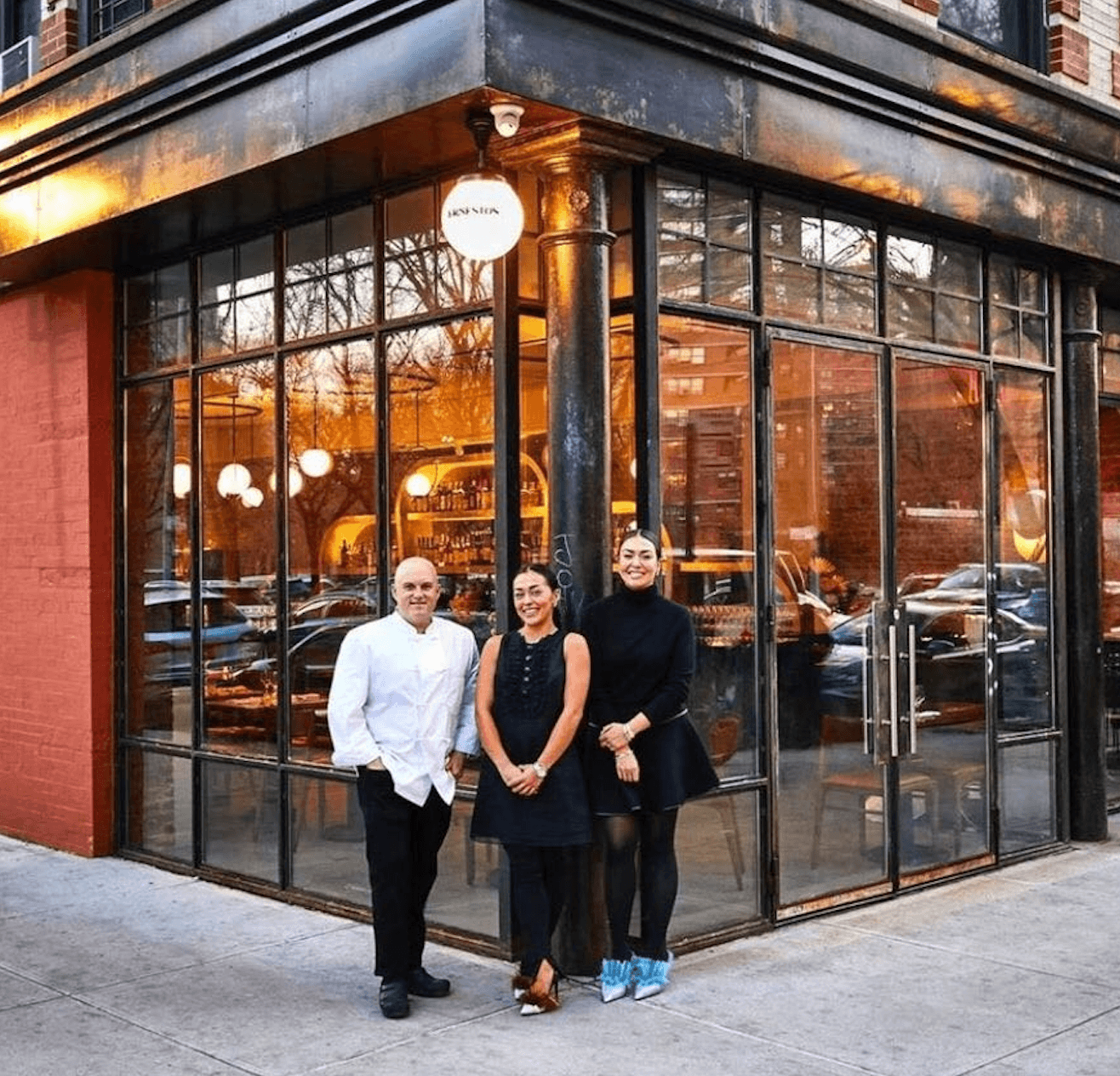 Doors Shut at Ernesto's, Lights On Forward_Space
While many businesses have had to temporarily close their doors to help prevent the spread of coronavirus, we don't want them to disappear into the dark so are giving them the opportunity to shed light on their neighbours.
Kicking off our 'Doors Shut, Lights On' series where we give businesses the opportunity to hero other businesses that are facing their own challenges during these uncertain times. 
While many businesses have had to temporarily close their doors to help prevent the spread of coronavirus, we don't want them to disappear into the dark so are giving them the opportunity to shed light on their neighbours.
Kicking off our 'Doors Shut, Lights On' series where we give businesses the opportunity to hero other businesses are Ernesto's, a Basque-inspired restaurant on the Lower East Side.
Tell us about Ernesto's
Ernesto's was established in the summer of 2018, but we didn't open our doors to the public until the first week of January 2020. The restaurant resides in the Two Bridges area of Manhattan, which is Lower East between the Williamsburg and Manhattan Bridges. The neighborhood is still very much the old-school neighborhood people think of when they think of New York City. The area comprises co-ops, synagogues and subsidized housing. A lot of the people that live in the neighborhood have lived there for multiple generations and have been incredibly supportive and excited about our restaurant opening in this little pocket of Manhattan. 
The other portion of the neighborhood are young families, young couples and young professionals, who have also shown great excitement to have a restaurant, cafe and wine bar right outside their front doors.
Ernesto's is a Basque-inspired restaurant that Chef and Owner Ryan Bartlow wanted to create and add to the restaurants in New York City. He was inspired by his time in the Basque region, specifically in San Sebastian and the neighboring towns, and wanted to share and educate others about this area of the world. He has always wanted to open a restaurant that he would want to dine at everyday and that is what he did. Ernesto's was and is built on this idea of bringing people together to enjoy a beautiful meal from a different part of the world that you may have never heard of.
How has the coronavirus affected your business and what is your current situation?
The effects of the coronavirus have been difficult on us as well as everyone else within the industry; vendors, employees, building owners, etc. Right now, we are not doing any takeout or delivery, as we feel that it is best for our employees to stay home and not take any chances. Also, our concept and model was not built for online orders and delivery. Instead, we have decided to start a GoFundMe for our staff so that we can hopefully help them any way we can while they are out of work. The Ernesto's Family Fund has received so much support from inside and outside the community; it has been humbling and very generous as everyone right now is suffering.
Have there been any positive learnings or lessons so far?
The most positive lesson learned so far is how kind and generous people are, even those $5 people have donated to our Go Fund Me have been so kind. We know that this time is and will continue to be rough for all of us and will affect every industry, so seeing how much money we have raised for our staff is shocking, inspiring and so much more! I know our staff is so appreciative of what we are doing and it helps to know that we are trying and that everyone around us is trying. Sticking together is the best lesson learned.
How have your customers reacted?
Our customers have been more than supportive with donations to our Ernesto's Family Fund as well as through emails. We even received an email on Monday, right after we had to close our doors from a customer and neighbor, asking if there was anything at all he could do for us and our staff. This type of outreach has shown us how much people care, that we somehow in our short period of being open touched our customers. Overall, everyone has been positive, supportive and extremely generous through this time.
If you had to pick one, which dish from your menu would you have in unlimited supply during self-isolation?
The one dish we would choose from our menu is our Txuleta de Vaca Vieja which is our steak for two. The meat is from Kinderhook Farm, which is upstate in the Hudson Valley, where they are producing products in the same way the Basque people do. Vaca Vieja translates literally to "old cow"; Kinderhook is harvesting the cows when the cows have lived a nice long life. The youngest age they are harvesting is 7years old, which in comparison to 1 ½ -2-year-old cattle is substantially older.  Our Txuleta (steak), is a 60-day dry-aged rib-eye that is grilled to a perfect medium-rare and served with a beautiful green salad and blistered piquillo peppers gratin. It is a harmonious and simple dish that gives you rich flavor, acidity, and sweetness. It's a truly perfect meal to eat over and over and over (lol) again.
What would you say to other small businesses at the moment?
Hang in there, we are in this together and we will rise again! This too shall pass and once it does, the future is bright!
So which local business do you want to turn the lights on?
Forward_Space—a high-intensity dance cardio fitness studio in NoLiTa. Their concept is for those who want to dance to come and set themselves free. They created an environment that feels like a sanctuary or oasis, but also feels like a nightclub. With that environment, their members feel like they are able to be free in all forms. No experience is needed, but openness to their concept and ideals is recommended. They have created a community inside their small studio that is much larger than all of us.
It sounds amazing—how did you come across it?
It was actually when the fitness studio we were attending decided to close its doors. The other women we were attending class with had become our little community and all of a sudden we found ourselves "homeless" for a place to exercise together. We started hearing some of the other women and instructors begin to talk about a place just around the corner that offered a dance cardio class. Upon attending our first class, we found that "dance cardio" was a woefully undescriptive way to describe what this class was. It was probably one of the hardest workouts we had ever done, but we smiled through the entire class because of the incredible energy that the instructor and the other attendants were giving off. 
Do you have a favourite memory from going there?
Our first memory is also one of our best memories of Forward_Space! From the second we walked through the front door, we were met with so much warmth and enthusiasm from not only the girls at the front desk and the instructors, but from the women taking the class as well.
One of the first things they have you do upon entering "the club" is to say good morning or introduce yourself to the people around you. From there you begin to clap to the beat of the music, which then segways into one of the hardest dance cardio with weights classes either one of us has ever taken. But then, all of a sudden, they have you stand in a victory position, and they ask you to begin "clearing". "Clearing" is an act in which you release all pent-up energy and move your arms in very concise motions around your body in order to wipe and push away any negative energy you have inside. You then begin to physically pull energy in from around you to bring in positive energy. While these motions sound so simple, the emotion that it brings out is honestly incredible. It makes you stop and think about what we put ourselves through on a daily basis; stop and process positive and negative things that we go through; stop and give thanks to ourselves for everything we do daily. When we walked out of the room, we were both stunned at how emotionally light we both felt and how mentally prepared we were to walk out into the world and take on whatever the day had in store for us. It was a therapy we didn't know we needed; you will NEVER leave in a bad mood. 
Any parting top tips for when we go? 
We like to go in the morning, as we feel that it is one of the best ways to begin our day. We love taking Forward_Fire, which incorporates 2-4lbs free weights with the workout; it just adds that extra dimension to an already intense workout. Afterwards, we feel mentally prepared to take on the day. You will sweat A LOT, and you will move A LOT, so definitely wear something you are comfortable doing both those things in; sneakers are a must.