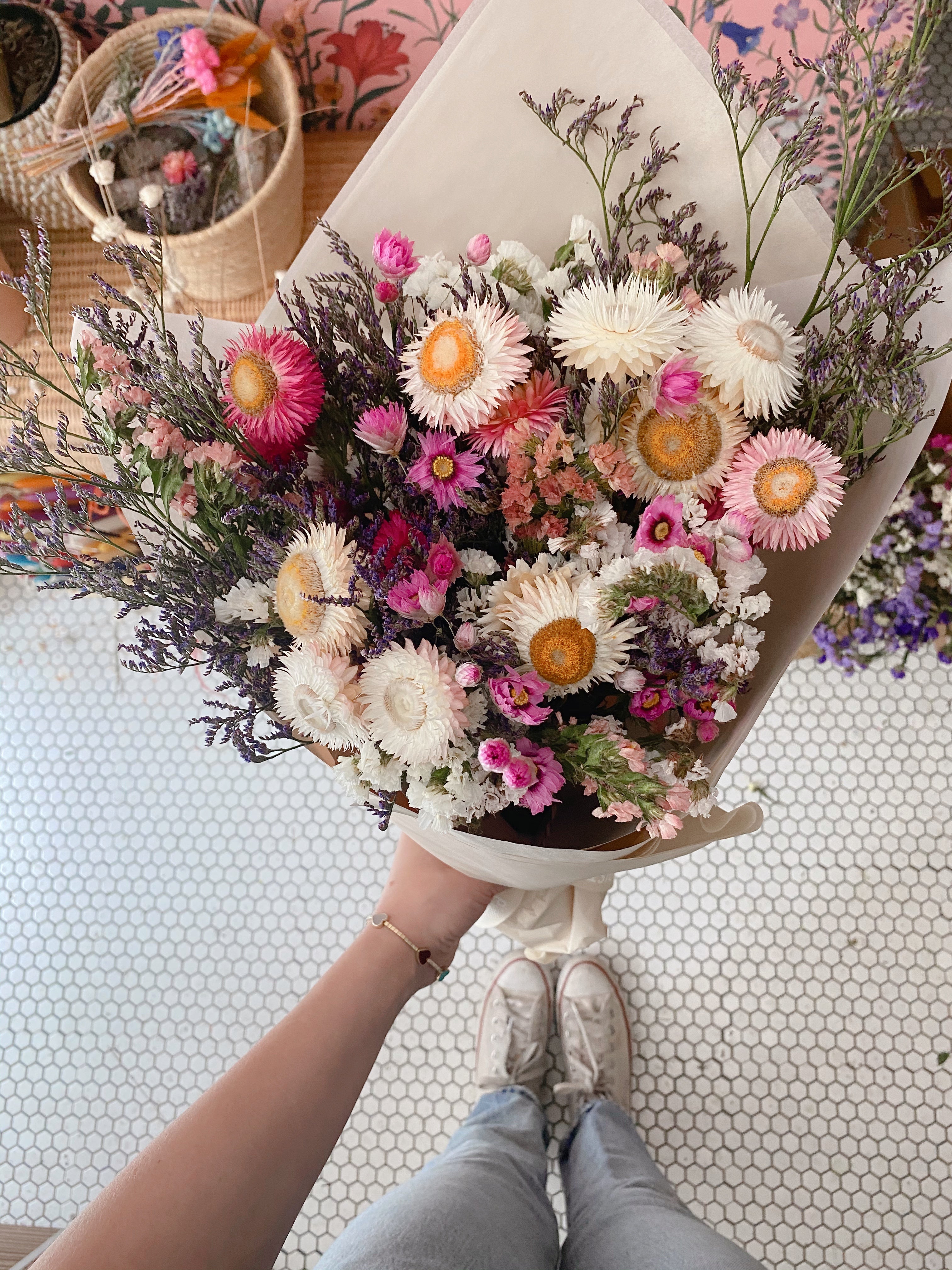 Doors Shut at Popupflorist, Lights on Dante
Kelsie Hayes, owner of NYC-based Popupflorist, discusses the benefits of flowers on our mood, taking a break from business for wellbeing and the power of Zoom video calls in keeping her community strong.
Kelsie Hayes, the owner of Popupflorist, was nominated for our 'Doors Shut, Lights On' series celebrating New York businesses in the midst of the COVID-19 outbreak by fellow business-owner Claire Chan of THE ELK and Bar Beau.
Kelsie recounts how taking a break when coronavirus hit was vital for her wellbeing in allowing her to reset, refresh and restrategize.
Tell us about your businesses, Popupflorist
Popupflorist is a floral and plant design company in NYC. We are all about celebrating life's moments, both big and small. We work with fashion and lifestyle brands to create memorable experiences whether it be a large scale installation, a thoughtfully designed tablescape, or a beautifully arranged mailer highlighting their products. 
On a day-to-day basis, we run a small floral shop in the East Village where we hand-deliver fresh arrangements all over the city as well as ship dried flowers nationwide. At our shop we also hold weekly intimate workshops to provide a fun yet relaxing environment that encourages creativity. 


Kelsie Hayes


How has the coronavirus affected your businesses and what is your current situation?
Coronavirus began affecting business for us late February, when cancellation after cancellation began to roll in. Spring is when our clients come to us to create events that get people excited about the nice weather, which we all know New Yorkers thrive in! Our event business makes up about 80% of our yearly revenue, so it has been devastating to say the least. The thought that events probably won't be planned for the foreseeable future is incredibly stressful, but I am hopeful that when it is safe they will come back in a big way. 
Overall, we had to react quickly and begin shifting our offering. For our brand clients, we have been creating Instagram content of at-home tutorials. For our everyday customer, we created bouquets that we can ship nationwide and have begun offering digital workshops.

Have there been any positive learnings or lessons so far?
My biggest lesson so far in this has been to give myself a moment of stillness. When this all started happening, we reacted very quickly. We closed up the shop, created a team to volunteer at Food Bank of New York City, and finished up our projects quickly. The following week, I took the entire week off to rest from both the emotional and physical stress of closing my business. During this week I put the business on the backburner and ultimately checked in with myself, my partner and my family. 
After that time, it was back to work. I honestly felt refreshed and ready to pivot the business. It gave me the opportunity to think about what we needed to do to ensure that when this ends, we will be able to reopen. Unfortunately, the programs that were created to help small businesses during this devastating time have not been reliable thus far, so I knew we needed to get back online to be able to bring some revenue in immediately.
I wanted to be able to create items to purchase that people felt good about buying. Since March 1st we have been donating a portion of sales to Food Bank of New York City, which provides meals for New Yorkers in need. Each bouquet we sell provides 25 meals through this organization. 
To create the sense of community that we are all missing, we began to sell tickets to digital workshops. We ship the "kits" ahead of time and schedule Zoom classes. The response to these has been unbelievable and after teaching 5 workshops now, this is something we will continue to do. The classes are fun and allow us to connect with people all over the country. 

How have your customers reacted?
What I have seen thus far has been incredible. I have seen that our community goes way beyond NYC with personally packing and shipping out bouquets all over the country every day. The messages that accompany these bouquets are enough to make me get emotional every time. On a personal level, I am so incredibly humbled that people are supporting us during this uncertain time.
Popupflorist bouquets


How can flower arrangements improve our homes and mood on lockdown?
Flowers have always been a form of "wellness" for me. In my past career as a womenswear designer where I lived and worked in my studio, flowers were always the anchor amongst all of the chaos. 
I have been encouraging people to buy grocery store or deli flowers. Even if it's just a single bunch of tulips, it will instantly brighten your mood.

Do you have a current favourite flower to use or colour palette?
I love colour! Late summer is my favourite with dahlia season being in peak bloom. All year round, I love ranunculus. Right now you can buy them locally at the farmers market.

What would you say to other small businesses at the moment?
Allow yourself the time to really think about what you want the future of your business to be. The silver lining to all of this is the opportunity to be able to essentially hit "reset." New Yorkers are resilient and I am confident that when this is all over and we're safe that everyone will rally to provide the help that small businesses really need. Unfortunately, the majority of the SBA programs have failed to help small businesses but never underestimate the power of your community.

So which local business do you want to hero? 
I would love to hero small plate and cocktail café Dante NYC!

How did you come across it?
I did an event in December at Dante in Greenwich Village. The space is so cosy and charming and I couldn't believe I had never been there! I quickly became a frequent customer, and ended up becoming fast friends with the owners, Nathalie and Linden. They are two of the nicest and most hard-working people I have met! They were about to open an extension of Dante in the West Village when all of this happened, but it will no doubt be THE spot to go to when we're all back up and running. 

Do you have a favourite memory of going there?
My boyfriend surprised me with a reservation for Valentine's Day. As a florist, I am typically a zombie after Valentine's week but I perked right up when he told me! I let Nathalie know we were coming and she got us two front row seats to literally the best bar in the world (it was voted that in 2019!) and we had the BEST time and best meal! 

Any parting top tips for when we go?
My go-to drink is the Salty Dog and the Fazzoletti pasta. Truthfully, anything there is good and what makes it even better is the top-notch service and attention to detail.