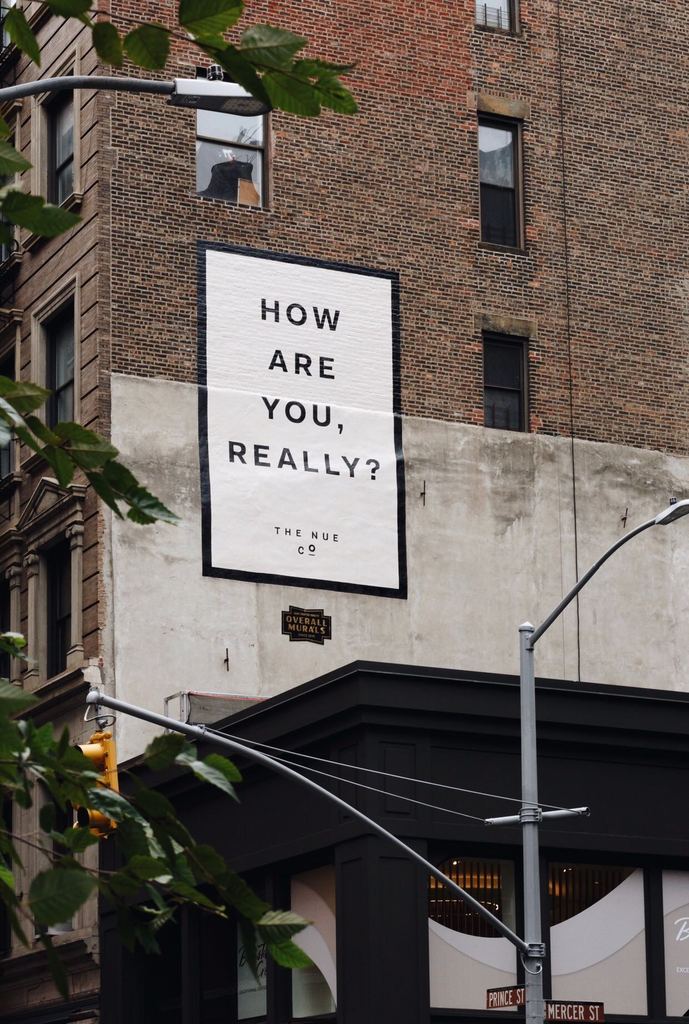 'How Are You, Really?' and other questions
We explain our ongoing commitment to mental health awareness.
In September 2019, we launched the campaign 'How Are You, Really?' to highlight that there is no health without mental health. Covering multiple locations across New York and Los Angeles, the campaign featured a selection of questions in contrast to the "rules" usually dictated to us by the wellness industry.
As a wellness brand, how you feel is integral to everything we do. During the COVID-19 pandemic, we're alert to the risks posed to mental health, which is why the question 'How are you, really?' is especially important now. Fear for our lives as well as our loved ones', changes in routine, financial worries, concerns over childcare, isolation… The triggers that can have an impact on mental health are endless. However our symptoms manifest emotionally or physically, we're all undergoing stress. 
As an extension of our original 'How Are You, Really?' campaign, we've referred to Mental Health America's 'Tools 2 Thrive' to identify key pillars of mental health to ensure that we're doing what we can as a business to be continually mindful. From tips to help improve your mental health to reminding you to check-in with how you're feeling, we're pledging to continue to support healthy minds alongside healthy bodies. We hope that delving deeper into your emotional state by reflecting with ongoing questions will help you to identify any issues and make you feel more in control.
While 1 in 5 of us will experience a mental illness during our lifetime, everyone faces challenges in life that can impact their mental health. So what can we do about it? For us, the answer lies in connection: true connection with yourself, with your body, and with your feelings. It's allowing yourself the space and time to sit with your feelings, and allowing them to move and teach you. And in the process, we hope you are kind to yourselves and validate whatever you might be feeling in the same way you might do for others. 
One of the easiest tools to use is taking a mental health screen at mhascreening.org as it's a quick, free and private way to assess your mental health and recognize signs of mental health problems.
We've also developed three new T-shirts which you can shop here that we hope will help you express how you feel, create conversation and show that we can all face struggles with mental health, with 100% of proceeds going to our chosen mental health charity Heads Together.

Heads Together is a mental health initiative spearheaded by The Royal Foundation of The Duke and Duchess of Cambridge, which combines a campaign to tackle stigma and change the conversation on mental health with fundraising for a series of innovative new mental health services.




There's 3000 words in the English language for emotions—remember that you don't have to say you're "okay" every time.