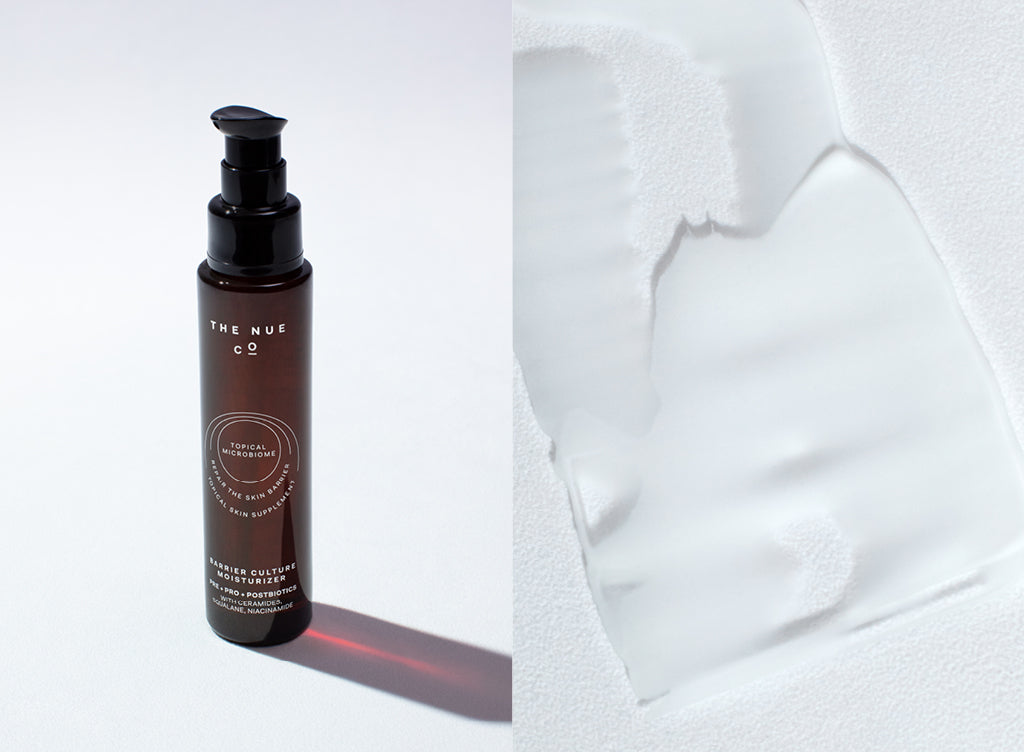 Inside BARRIER CULTURE moisturiser
BARRIER CULTURE MOISTURISER focuses on supporting skin health by layering hydrating, moisturising, rebuilding and repairing actives into one formula. An innovative gel-to-cream formula that instantly absorbs into the skin, it creates a lightweight moisture seal that leaves skin instantly plumped and smoothed, providing instant and visible results to dry and lacklustre skin. The formula also contains ceramides and probiotics that rebuild and restore the skin barrier to strengthen the skin's natural defences. 
Niacinamide activates the skin's immune system, helping to repair dark marks, scarring and supporting natural healing and regeneration, while Squalane protects against pollution and everyday stressors on the skin barrier. Delivering an instant soothing effect, the patented probiotic technology in BARRIER CULTURE MOISTURISER is proven to reduce inflammatory responses and redness in the skin.
Here's a breakdown of the ingredients we use to reduce TEWL (transepidermal water loss), decrease pollution-induced skin barrier damage, improve the skin cells' immune response, rebuild the skin barrier and repopulate the topical microbiome.
Ceramides 
Ceramides are lipids (fats) that are found naturally in high concentrations in the uppermost layers of skin. They make up over 50% of skin's composition and play a vital role in how it responds to environmental stressors and how it looks. In your skin's structure, ceramides act like the 'mortar' between bricks, creating a protective layer that limits moisture loss and protects against pollution and other environmental stressors. To be effective, ceramides must be stored in dark glass packaging, as they can degrade quickly—which is exactly what we do for BARRIER CULTURE.
Peptides 
Peptides are short chains of amino acids that act as building blocks of essential proteins such as collagen, elastin and keratin. The proteins are the structure foundations of your skin and are responsible for maintaining texture, strength and resilience. Without peptides, our skin is less structurally intact which can lead to a loss of firmness, the appearance of wrinkles, a change in texture and less 'bounce'. When applied topically to the skin, peptides act as messengers, triggering skin cells to perform specific functions such as building collagen and elastin, encouraging skin to look and act younger.
Prebiotic
Prebiotics are essential to supporting a healthy microbiome, in both the gut and on the surface of the skin. Prebiotics act as food for the bacteria already present on the surface of the skin - usually these ingredients are simple carbohydrate sugars known as polysaccharides. We use two different prebiotic ingredients in BARRIER CULTURE MOISTURISER: Inulin, which is extracted from chicory root, and a potato starch extract called Maltodextrin. 
Probiotic 
The patented probiotic technology we use enables the cell wall of the bacteria to remain intact, this means it's recognised by, and interacts with the skin as live bacteria would. The extract is Lactobacillus plantarum which is naturally occurring in our bodies. It is clinically proven to defend the skin against damage from particulate matter (pollution), improve skin moisturisation, maintain a healthy topical microbiome and strengthen the skin barrier. 
Squalane
Squalane is a postbiotic ingredient. It is a lightweight, non-comedogenic oil derived from olives. It mimics your skin's natural oils (sebum) and helps to deeply moisturise the skin. Research has shown that squalane has anti-inflammatory properties and is suitable for even the most sensitive skin. 
Cica Extract 
Cica (full name Centella Asiatica) is a popular K-Beauty extract as it stimulates collagen synthesis to improve skin firmness, elasticity, and fine line reduction. It contains active compounds, including madecassoside, which serves as an antioxidant. It has also been shown to have potent antioxidant properties and to be a rich source of amino acids, and there's additional research showing that it's a good hydrating ingredient to soothe upset or compromised skin. Centella asiatica is most well-known for its wound-healing abilities. In fact, legend has it that centella asiatica got its nickname of "tiger grass" from tigers that would roll around in the plant after a fight in an effort to soothe their wounds. 
Niacinamide 
A form of Vitamin B3, Niacinamide can help build proteins in the skin and lock in moisture to prevent environmental damage. Studies show that Niacinamide can support the skin's immunity through building keratin, improve barrier function, protect against oxidative stress, reduces inflammation in the skin and helps prevent fine lines and pigmentation. Niacinamide works very well when paired with Ceramides. When applied topically studies show that Niacinamide actually supports in the product of Ceramides within the skin - this effect is maximised when paired with topically applied Ceramides. 
Calendula 
Widely used in Ayurvedic and Traditional Chinese Medicine, calendula has been used as a skin soother for centuries. The plant extract has natural antibacterial, antiviral and antifungal properties. Calendula petal contains five compounds — Oleanic Acid, Lupeol, Quercetin, α Amyrin and β Amyrin. These efficacious compounds have been studied and are known to provide antioxidant protection, soothe skin and reduce discomfort.
Chamomile 
Chamomile is one of the best recognised traditional remedies for calming irritated or inflamed skin. Our formulas use German Chamomile (Matricaria recutita). As a herbal remedy it is widely used for it's anti-inflammatory, anti-bacterial, anti-allergenic, and sedative properties.