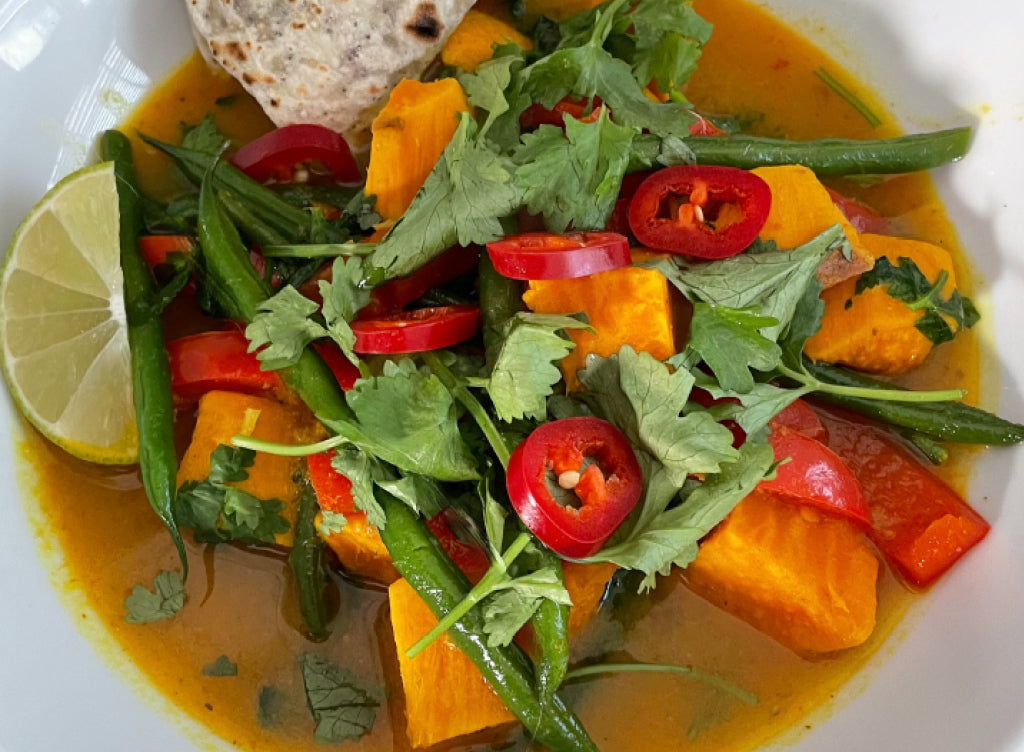 Feed Your Gut: Turmeric Coconut Curry with Seeded Flatbreads
London-based nutritionist Emily English delivers a full 360-degree approach to health and wellbeing, harnessing state of the art nutrition testing, deep understanding of food and instinct. Emily's ethos is that food and nutrition is more than just what we eat, it's also about how we eat, our environments and our lifestyle.
Here she shares her recipe for a vegetarian curry that nurtures the gut and boosts immunity with its anti-inflammatory spices and red pepper which delivers almost 3 times more Vitamin C than an orange.

INGREDIENTS (Serves 2)
Flat breads:
- Natural yoghurt or soya yoghurt Wholemeal flour
- Mixed seeds
Curry:
- 1 tin light coconut milk
- 1 tbsp yellow curry paste
- 1/4 tsp turmeric
- 1 red pepper
- 1 large sweet potato
- 1 pack of green beans
- 1 tbsp brown sugar
- Fresh ginger
- Fresh coriander
- 1 tbsp fish sauce (omit for vegan) 1 stick lemon grass (optional)
- 1 lime
METHOD
1. Start the curry by prepping all the vegetables. Slice the red peppers into thin strips, prep the green beans and dice the sweet potatoes. Take a small thumb size piece of ginger and cut into thin batons, then finely chop by running your knife over repeatedly.
2. Heat 1 tbsp curry paste with 2 tbsp coconut milk until the spices begin to release their aromas, you will be able to smell this. Add in the full tin of coconut milk, and using the same tin refill with water. Pour in 3/4 tin of water and add the ginger, smashed stick of lemongrass and the sweet potato only. Season with 1 tbsp fish sauce and 1 tbsp brown sugar.
3. While the curry simmers make the flat breads. Combine 1 cup of flour with 1 tbsp of seeds in a bowl. Add 1/2 a cup of any yoghurt, pinch of salt and using a spoon start to bring the dough together. Using your hands, form the dough into a ball and gently knead. Break off small golf size balls of dough and roll out into rough rounds around the thickness of a standard wrap. Heat a pan with no oil until its very hot. Cook the flatbreads flipping every few seconds until well coloured and cooked through. These will freeze well.
4. Finish the curry by adding a splash of water to loosen, the final vegetables and simmer for a few more minutes. Add lots of fresh coriander, the juice of one lime and more fish sauce if needed.
Discover our guide to gut health supplements