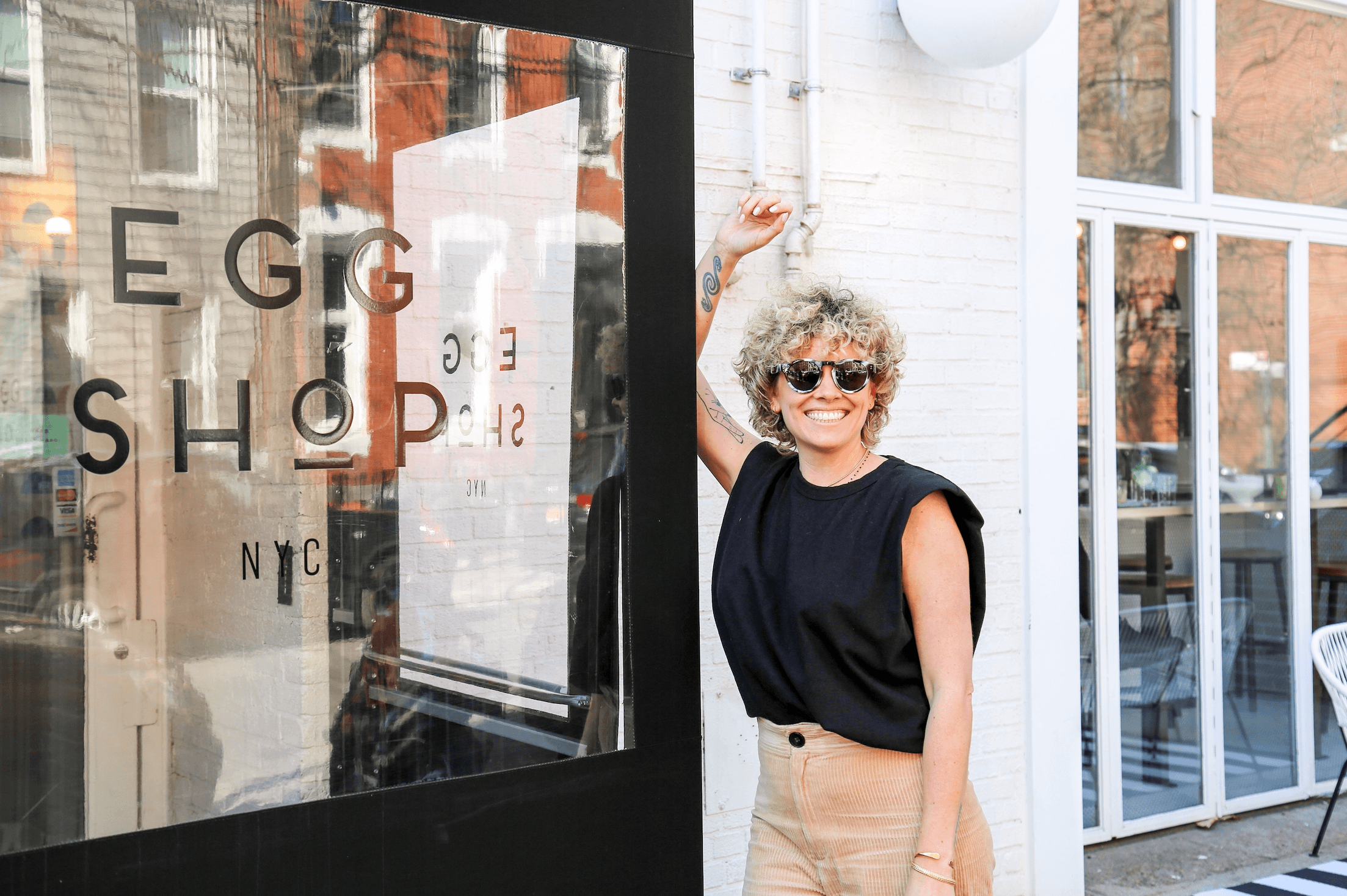 Doors Shut at Egg Shop, Lights on The Elk + Bar Beau
Sarah Schneider, co-founder of the Egg Shop eateries in New York, joined us for this week's edition of 'Doors Shut, Lights On', getting real about the lows and highs her and her team have faced since closing the doors due to the global coronavirus pandemic, and divulges how we can recreate her cult dishes at home.
Sarah Schneider, co-founder of the influencer favourite Egg Shop eateries in New York, joined us for this week's edition of 'Doors Shut, Lights On', our initiative to give businesses the opportunity to shed light on their local community.
Sarah gets real about the lows and highs her and her team have faced since closing the doors due to the global coronavirus pandemic, and divulges how we can recreate her cult dishes at home.
Tell us about Egg Shop
Egg Shop was founded in August 2014. After years of bla bla bla-ing to anyone who would listen to my idea, I finally pulled the trigger along with my now-husband Demetri. I moved to NYC when I was 21. I was broke and going out all the time so deli egg sandwiches were my go-to meal! As I got a bit older and started thinking about what I was putting into my body, I wanted my egg sandwich with some higher quality ingredients.
Egg sandwiches are a quintessential NYC staple, and nobody was catering to this. Egg sandwiches are also very cultish; people have such particular preferences about how they like their eggs cooked, which bread they prefer, melty or hard cheese etc, and I wanted to open a restaurant that was dedicated to this—the art of the egg sandwich with high quality organic ingredients! I spent my career working in the denim wholesale world. When I was 34, I quit my job and embarked on this terrifying adventure. I left my comfort zone and plunged into the unfamiliar world of hospitality.
How has the coronavirus affected your business and what is your current situation?
Coronavirus hit our Nolita location very quickly. That location has become very tourist driven and the impact was felt almost immediately. By the first week of February, we were feeling the downturn of business. Our business was down about 25% and there was nothing we could do about it. We have our second location in Williamsburg which was seemingly fine; this is more of a neighbourhood destination and the business was cruising along.
The day that felt most dreadful was Friday March 13th. For whatever reason, that day seemed to be the day all NYC businesses were telling people to work from home and the city felt ominous. That was also the day my staff became hyper-aware of the risks so many of them were not comfortable commuting to work and I was not comfortable putting them at risk either. We decided to see how the weekend went and be as diligent as possible with hand washing and sanitation. That Sunday was eye-opening—we were down 75% in both locations. It was a devastating shock and I was an emotional mess. On Monday, we decided to do take-out only, before the city mandate was set into motion. Tuesday we closed our doors completely. We realized as business owners that we were not comfortable asking our staff to work. If I didn't want to be there, I was not going to ask anyone else to be. Delivery was just too risky in our opinion. Sadly we have been closed since. 
Have there been any positive learnings or lessons so far?
I wish I could say there was a positive spin to this but I can't see it—at least not yet. I miss my team, the guests, NYC as the vibrant city I call home... I suppose the fact that the entire world is in this together makes it palatable. I hope when this is said and done, there is positivity to come from this—ideally how we treat our planet will change, and how we operate small businesses. All of this drama has really shone a light on the small business community and how little we have in terms of support. I read something that said 65% of restaurants will not be able to recover from Covid-19. That is horrendous and the lack of support from the government is mind-blowing. We are out here drowning with no life support is what it feels like.
How have your customers reacted?
So many guests have reached out and the love and support from the Egg Shop community has been overwhelming. The last day we were open, random people were just stopping in quickly to buy gift certificates. They were really going out of their way to try and find creative solutions to help us. Family and friends generosity has been my bright light in all of this. It inspires me to fight for what we have built and try to navigate this so that we come out of this on the other side whole. The outpouring of love has kept me sane. 
If you had to pick one, which dish from your menu would you have in unlimited supply during lockdown and why?
The Scrambler. It's been my number one since opening day. Egg Shop Scramble is a french scramble, roasted mushrooms, corn, pecorino, avocado and chorizo. It's a dish that can be done with egg whites, or whole eggs, cheese or no cheese, healthy or indulgent: the egg dish that keeps on giving. 
How do we recreate the Egg Shop experience at home?
We have a beautiful cookbook that is available on Amazon. It shares all of our secrets and all of our favorite Egg Shop cocktails! Egg Shop is meant to be a happy place. Turn on some Bill Withers and eat some eggs!
What would you say to other small businesses at the moment?
Keep in touch with your staff as best you can, and make sure everyone is being looked after. These are the people that helped create the culture you strived for and will hopefully be there to put the pieces back together. 
So which local business do you want to hero?
Claire Chan runs two businesses: The Elk—a coffee shop in the West Village and Bar Beau in Williamsburg. She's a badass with a huge heart. There is nothing better than having friends in the same industry who understand what you are going through, especially during such challenging times. 

How did you come across it?
We met through a mutual friend who frequented both of our establishments! Then we met again at a women's dinner hosted at Maman. I live across the street from Bar Beau so it has become one of my local favourites!

Do you have a favourite memory from going there?

Bar Beau hosted my husband's 40th birthday party. The night was magical!
The Egg Shop has created a funding page to support employees of both its Nolita and Williamsburg Egg Shop locations. You can donate here.