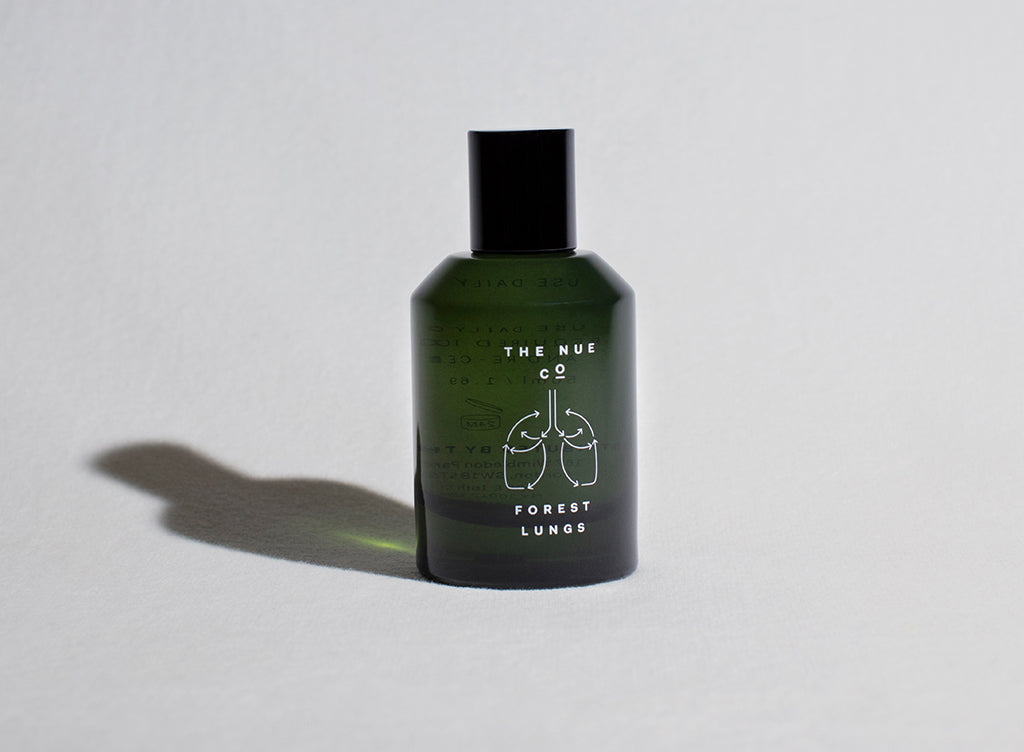 Meet the perfumer behind FOREST LUNGS
World-renowned perfumer Guillaume Flavigny breaks down the process behind creating FOREST LUNGS, a fragrance that puts function at the forefront.
Created by world-renowned perfumer Guillaume Flavigny, recipient of the Prix International du Jeune Parfumeur Créateur, FOREST LUNGS was created to deliver the healing effects of nature, taking you out of any stressful moment and transporting you into the sense of calm you feel upon entering a forest.
Guillaume explains the inspiration, the process and how using it offers an instant virtual reality experience from the comfort of your own home.


Tell us about your journey to becoming a perfumer? 
I've had a real passion for the world of fragrance ever since I was a little boy, and I did everything I could to succeed in the space. I first studied chemistry for three years at university, and then attended ISIPCA (an international school of perfume in Paris) for two years, followed by Givaudan's perfumery school for an additional three in Paris where I went on to become a perfumer. 




Since the aim was to create an olfactory supplement rather than a perfume, did it change your approach?
As I approached FOREST LUNGS, I pictured a series of strong elements: nature, forest, fire, peat, freshness. I was inspired by both a wild forest in Canada and a sophisticated modern elegance. Olfactively, the fragrance is reminiscent of the morning dew in a forest, which develops into smoky, leather notes that evoke warmth and richness.

Did incorporating phytoncides pose any challenges when creating this scent? 
It was something different, but I love any challenge―it sparks creativity and newness!

How did you create the fragrance to have a unisex appeal? 
This perfume speaks to both men and women and their relationship to nature. It's neither masculine or feminine. It balances freshness with smoky and leathery facets. 
Although there isn't a floral focus in this fragrance, people often consider florals to be more feminine. That isn't the case for me, it's an old fashion way to create and I believe anyone can wear them!

How does FOREST LUNGS induce an authentic feeling of being in nature? 
I'm a marathon guy, so this creation taps into my memories of running in forests around the world along with my passion for nature, especially the forest―it epitomizes the great outdoors and is a source of joy and reconnection with myself and it helps me to gain clarity.

What does spending time in nature mean to you? 
Contemplation and gratitude; I feel it's a "food" that instantly nourishes me. 

How does each note reduce stress?  
I develop with the end creation in mind. I can see the final perfume as I'm looking at you; it's precise in my mind and I know the steps I need to take to create it. It's the combination of notes that allows us to travel to a wild space and reconnect with nature. Notes of patchouli, cedarwood and vetiver help to transport the wearer by capturing woody and earthy elements.

Are you noticing any new trends in fragrance?  
I'm seeing more and more natural fragrances that are respectful of our environment with products coming from sustainable development and ethical sourcing. It's something that's important for me personally, that we continue to respect nature and don't destroy to create. 

Why would you recommend people use FOREST LUNGS while spending more time at home?
The most compelling attribute is its ability to create an immortal sense of nature. We're reminded of the outdoors despite the surroundings. It allows you to journey to the outdoors in your head; you can run through a forest without ever leaving home.
Read about the sustainably sourced ingredients in FOREST LUNGS and shop now.