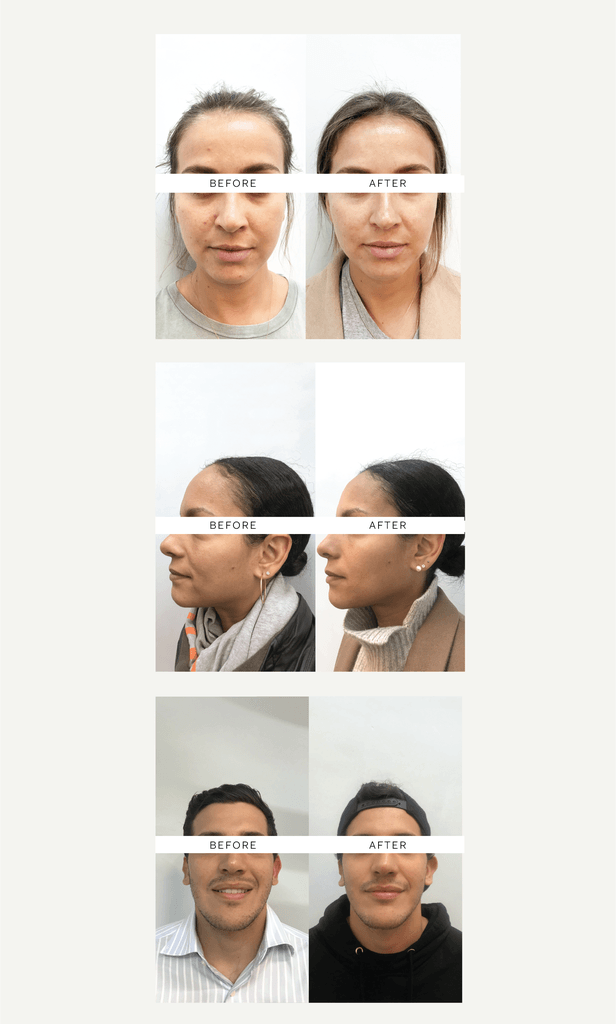 SKIN FILTER: The Results
The results are in. See what can happen to your skin when you utilise the powers of science and nature with our patented SKIN FILTER formula.
When we set about creating SKIN FILTER, we had a few goals:

To create a solution that addresses multiple skin care concerns
To create a product that would work for people regardless of their gender and age
To make it as low maintenance as possible, in accordance with our skin care routines
After months of research and trials, we came up with SKIN FILTER. SKIN FILTER is a daily supplement that uses a blend of ingredients including champagne grape seed, melon, vitamin C, zinc, as well as beta-carotene (Vitamin A), amla berry, camu camu, and pine bark extract. Here's how it works.

THE SCIENCE

The blend: Champagne Grape Seed, Melon, Vitamin C, and  Zinc

When it comes to dull and uneven skin, there are generally three issues that are responsible: melanin overproduction, collagen degradation, and impaired microcirculation. SKIN FILTER's key ingredient, a proprietary blend containing champagne grape seed, melon, vitamin C, and zinc, works to directly take on those issues. In a clinical study over 60 days, those taking the blend found that skin's luminosity increased by 26%, elastin increased by 9% (measured using a curometer), overall redness decreased by up to 35%, and blemishes were reduced by 21%. 

Beta-Carotene (Vitamin A)

Retinol is a hero ingredient in skincare and is often used in topical products such as serums and creams. Retinol is a derivative of vitamin A, a powerful antioxidant. Beta-carotene is a precursor to Vitamin A, made up of red, yellow and orange pigments called carotenoids. Carotenoids are most commonly found in whole grains, fruits, and vegetables, and actually make up 50% of the vitamin A needed in the average American diet.  When we consume beta-carotene, it is converted into vitamin A in our bodies. Vitamin A stimulates the cells responsible for producing collagen, which are called fibroblasts, meaning that consuming beta-carotene helps your skin tissue develop, keeping it firm and healthy.

Amla Berry

One of the most important plants in Ayurvedic medicine, Amla Berry is referred to as "Dharti" in Sanskrit, which translates to "the nurse," as it serves a multitude of functions. Also known as Indian Gooseberry, it is essential for skin health, but has also been known for its ability to support a healthy metabolism as well as benefit both the liver and heart.

Camu Camu

Not a lot of people are familiar with Camu Camu, yet it is one of the most natural abundant sources of vitamin C. This flowering shrub is found along the Amazonian riverside in countries such as Peru and Brazil. Packed with flavonoid antioxidants, this super shrub helps protect cells from free radical damage, AKA damaging molecules that come from light (think sun damage), pollution, and smoke.

Pine Bark Extract

The hydration factor. The pine bark extract in Skin Filter is sourced from pine trees that grow along the Mediterranean, and has been used traditionally for years for its skin hydration benefits. 
THE RESULTS

While the ingredients in SKIN FILTER were studied under dermatological control in France, we also wanted to do our own study. We asked volunteers to test out SKIN FILTER for 30 days, and show us the results. We took before and after photos to document their progress, and think the results speak for themselves. 
Subscribe to SKIN FILTER with an additional 20% off subscription prices for 12 months with code NEWYEAR.
This article was written by Halley Furlong-Mitchell