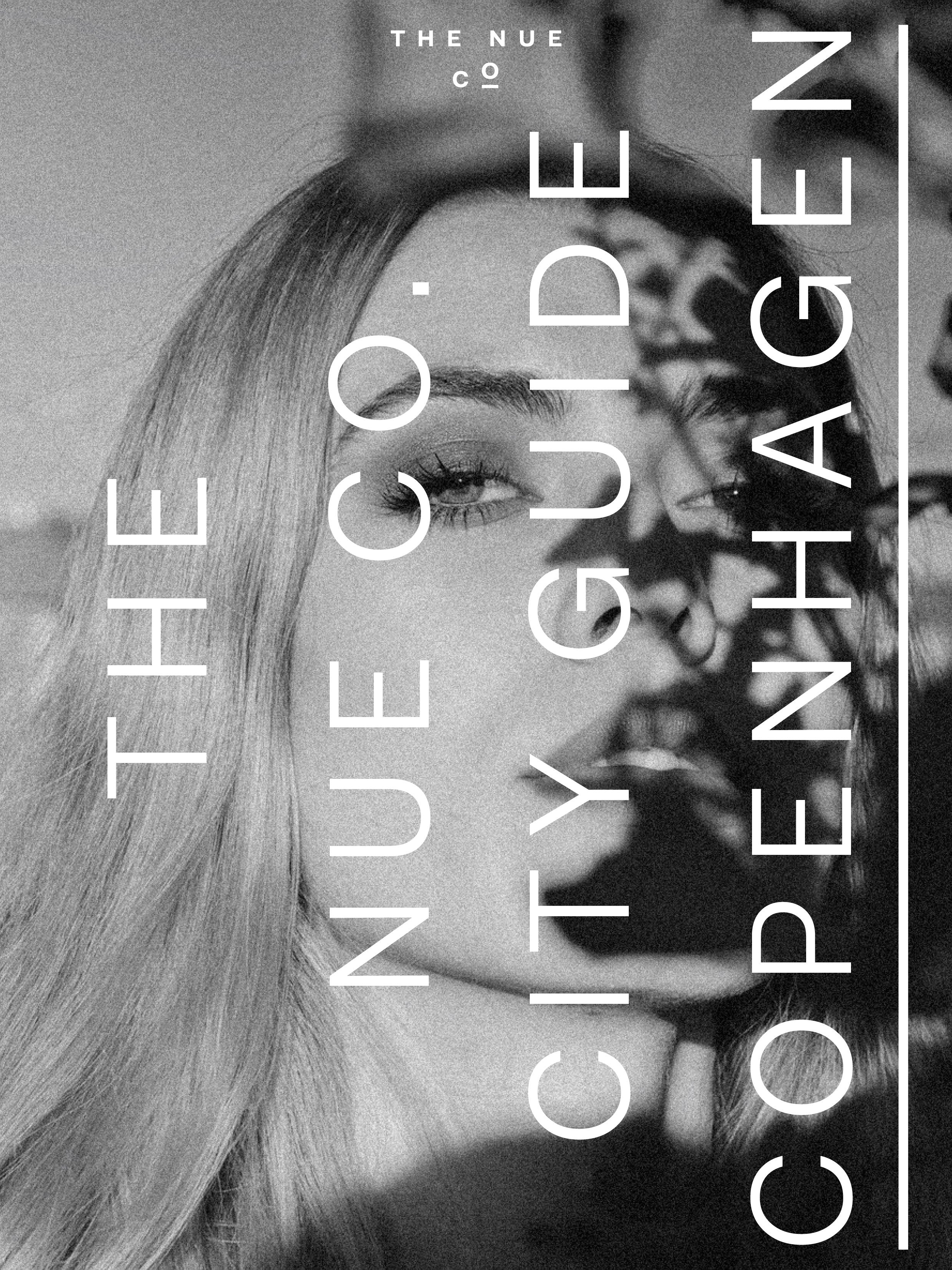 The Nue Co. Guide to Copenhagen
Experience the Danish capital like a local.
Copenhagen oozes Scandi cool, with no shortage of incredible food, modern design, architecture + fashion. Read on and discover our guide to making the most of Denmark's capital city.
EAT + DRINK

 
Sonny 
Rådhusstræde 5, 1466 København, Denmark
Sonny's bright, minimalist yet cozy setting fits the Danes Hygge perfectly. The specialty coffee shop + restaurant is frequented by locals and travelers, with fresh menu items like the avocado sandwich with chimichurri, beetroot spread, nuts, and greens on rye, or the Sonny Salad with pear, beetroot, kale, green leaves + quinoa. They also have a varied selection of pastries and bread which makes this an easy pit stop for any daytime need. Note: take a seat in the back courtyard in the summer to enjoy your meal. 


Höst
Nørre Farimagsgade 41, 1364 København, Denmark | +4589938409
Having won several design awards, Höst combines the features of recycled wood, lambskin, granite and concrete to present a renovated barn like interior. Their focus is on ingredients from the Nordic kitchen. Try the smoked scallop with apple and Jerusalem artichoke, salt baked kohlrabi with green cabbage and tarragon, and the classic 'Jonfruhummer' - a Norwegian lobster served with a warm salad of brussel sprouts, hazelnuts, crispy potato chips and a wispy sauce of chicken skin. 


Café Dyrehaven
Sønder Blvd. 72, 1720 København, Denmark | +4533216024
At Café Dyrehaven, pub vibes meet quirky features with old school countertops, colorful walls and mounted dear heads. This is your perfect go to for a quality nordic meal that won't break the bank. Located on Vesterbro, it's a popular sidewalk cafe and has an all day menu paired with it's easy-going old school charm and laid-back tunes. If you like Danish open sandwiches, smørrebrød, this place is worth a visit. Hot tip: visit over the weekend for a late night boogie when the kitchen closes.  
SHOP

 
Another Nué
Krystalgade 3, 1172 København, Denmark | +4533123302
Located in Krystalgade in the heart of Copenhagen, Another Nué showcases a curated edit of womenswear from designers such as Carven, 3.1 Phillip Lim, Acne Studios, Cedric Charlier, N°21, Jerome Dreyfuss, Sophie Hulme + more. You'll find a classic mix of elegant attire paired next to chic sneakers, statement pieces and animal prints with a mix of high-end design and everyday favorites. The shop floor is airy and minimal with top notch service. 


Hay House 
Østergade 61, 2, 1100 København, Denmark | +4542820282
For those obsessed with interiors, Hay House is a must visit. The interior design store located in Strøget pedestrian shopping street has everything from designer pillows and towels, to wall clocks, stationary, lamps and contemporary furniture. Showcasing work from a mix of international artists and designers, Hay's high quality design driven products truly reflect the Danes eye for modern living through sophisticated manufacturing. 


Carmen Copenhagen
Larsbjørnsstræde 7, 1454 København, Denmark | +4526833036
Carmen Copenhagen is one of the city's oldest vintage shops located in Larsbjørnssstræde. The focus is on the 70's and 80's where there's everything from dresses, leather jackets, shirts, handbags, shoes, home digs and more. It's in an area with lots of additional vintage stores so make sure you take a wander after you've checked out the shop.  


GO
Louisiana Museum of Modern Art
Gl Strandvej 13, 3050 Humlebæk, Denmark | +4549190719
This waterside complex is for those who appreciate modern art and sculpture, with works spanning across two floors and a large outdoor garden. The leading international museum balances stunning architecture and art with panoramic views of Sweden showcasing six to ten exclusive exhibitions annually and a variety of additional events + programming. Be sure to take advantage of the late night offers where you'll find a variety of initiatives and activities like live debates, lectures, concerts and workshops. 


Jægersborggade
First thing to note is everyone cycles in Copenhagen, so grab a bike and make your first stop Jægersborggade, the dodgy turned hipster street located in the Nørrebro neighbourhood. Home to 40 art galleries, organic produce shops, vintage clothing stores, ceramics, jewellery designers, wine bars and more, the street is raw and edgy and the perfect spot to spend the day and chill out in the eve with a drink at one of the local bars. There's also a popular flea market over the spring which is definitely a must see while in town, and be sure to check out our favorite cactus shop, Kaktus Copenhagen while there. 


WAREHOUSE9 
Halmtorvet 11B, 1700 København, Denmark 
In Copenhagen's meatpacking district, Warehouse9 is a small art gallery and performance space focusing on contemporary art, music and poetry. There's portable toilets and a makeshift bar which makes this stripped back, raw space a stunning venue for big parties and unique events. The space founded in 2007 focuses on queer and feminist themes and offers an edgy and cultural experience in the underground art scene in a bustling area of town. 

SWEAT

 
Senses 
Ryesgade 23 2200 Copenhagen N | +4548447000
With multiple locations spread across the city, Senses provides a variety of yoga and fitness options from hot yoga, barre and reformer pilates. High and low intensity practices make this a great studio for all fitness levels. Practices range from Hatha, Yin and Restorative to Urban and Vinyasa flow. 


Hillerogade Bad og Hal
Sandbjerggade 35, 2200 København | +4582205140
When the Danes aren't on their bikes, they're in the many pools scattered across the city. Hillerogade Bad og Hal is located close to Nørrebro station and features a 25m pool and sauna to relax after your workout or on a cold day. It's about $3USD on weekdays with weekends and evenings at $6USD.


Yo Studios 
Sturlasgade 14, M1, 2300 København S | +4522283248
Yo Studios' bright minimalist and airy rooms offer yoga, barre, cardio and dance located in the Islands Brygge. There's also a curated retail line where you can pick up Yo activewear and other fitness apparel. You'll feel at home here with friendly and helpful staff that are laid back and inviting. This is an easy spot for visitors and locals with all levels welcome and drop in classes available.