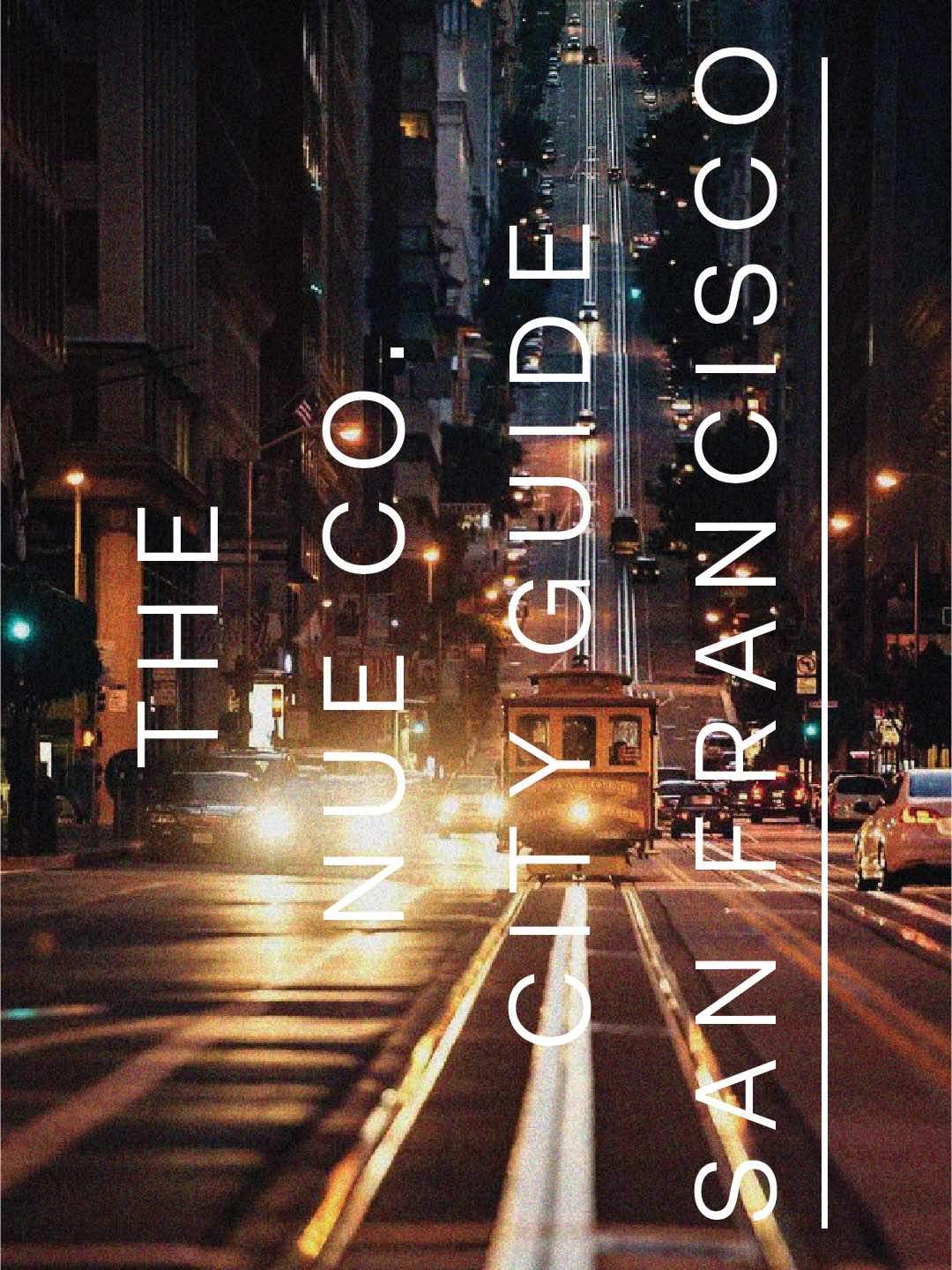 The Nue Co. Guide to San Francisco
Follow our guide to one of America's most iconic cities.
San Francisco is one of America's most iconic cities. As it's rapidly changing and evolving, it plays host to many newcomers on the block—which are quickly becoming favorites—while its world-class museums and cultural institutions rival any destination. Here's our guide to picturesque SF.
Eat + Drink



Souvla
517 Hayes St, San Francisco | 415.400.5458

A more recent addition to the city's famed food scene, this "fast-fine" greek restaurant only offers a few items on the menu. Choose between lamb, pork, chicken or veg—as a salad or sandwich—and call it a day. Top it off with a side of spicy just-right fries or the Avgolemono soup to warm you up.


Arlequin Wine Merchant
384A Hayes St, San Francisco |  415.863.1104
Do you dream of walking into a wine store and popping the bottle right there? Maybe in a beautiful garden in the back? You're in luck—that's exactly what Arlequin is. Hand pick your wine from a selection of delicious bottles then order some food from the adjacent cafe and post up for hours amongst the backyard flowers.


Leo's Oyster Bar
568 Sacramento St, San Francisco | 415.872.9982

This swanky, small-bites bar pours classic cocktails with a tiki twist. Go for the wallpaper, stay for the caviar. This can be a great pre-dinner meet up or sit and dine for the full experience.


Shop

Rand + Statler
425 Hayes Street, San Francisco | 415.634.0881

Everyone can find something to drool over in this Hayes Valley staple. Simple + elegant jewelry, designer apparel for children, home goods from Aesop and an eclectic fashion selection for men and women make this a one-stop-shop for the full family.


Relic Vintage
1605 Haight St, San Francisco | 415.255.746
Looking for unique vintage pieces from the 1920s - 1960s? Relic's got you. They will even tailor pieces to fit you perfectly. The interior has an art-deco color inspired pallet + furniture to transport you to another era while trying on timeless pieces.

Elizabeth Charles
2056 Fillmore St, San Francisco | 415.440.2100

Find fashion cult favorites like Isabel Marant and Self Portrait in this chic boutique on Fillmore Street. Make a private appointment with a consultant or walk right in to browse the posh collection of designers.



Go
SFMOMA
151 Third St, San Francisco | 415.357.4000
If modern art is your thing, SFMOMA will not disappoint. As the largest museum of modern and contemporary art in the United States, it hosts a jaw dropping collection of sculpture, photography and painting. Be sure to walk around the art-filled public spaces which span across 45,000 sq ft.
Ferry Building
One Ferry Building, San Francisco | 415.983.8000
San Francisco's Ferry Building is home to the best weekend farmers market in the city. Outside of fresh produce stands, the beautiful building is home to a handful of local restaurants and shops. Must-visits include Acme Bread Company, Hog Island Oysters, and Miette for a french macaroon. If you're staying for a full meal make a reservation at Boulette's Larder or for something more casual, pop into Gott's Roadside.
Golden Gate Park
Golden Gate Park San Francisco
You could spend your entire SF visit exploring the vastness of this 1000 acre park. Home to the Academy of Sciences, the De Young Museum and the Japanese Tea Garden, there's lots to do within the confines of this magical urban forest. 20% larger than New York's Central Park, take it all in by walking, biking or rollerblading through the closed off pathways. If you're with kids, don't forget to stop by the carousel and giant concrete slides in Koret Children's Quarter.
Sweat
Yoga Tree
182 6th Ave, San Francisco | 415-752-4707
While there are many sacred yoga, pilates and meditation studios in a city like San Francisco, Yoga Tree is our favorite. If you're just visiting, you can buy a single class for $24 or if you intend to go a few times, you can get your first month of classes at a discounted rate. Try the Mellow Flow class if you're looking for an evening wind down.
SALT
327 Divisadero St, San Francisco | 415-529-2721
SALT features a variety of cardio, barre and kickboxing workouts. The high-intensity choreographed classes use various functional strength tools like sandbags, resistance bands, lower body loops, and balance balls. Choose SALT when you're looking for a decent sweat—drop in prices start at $25.
Bodyrok
3585 20th St, San Francisco | 415-890-2765
This isn't your average pilates class. Bodyrok offers 40-minute pilates sequences to get your heart rate up and muscles burning. When you're looking for resistance + full body toning, this is the spot.
Discover The Journal 
Read: Sex and Wellness with Alexandra Fine 
Read: Recipe: Functional Oats