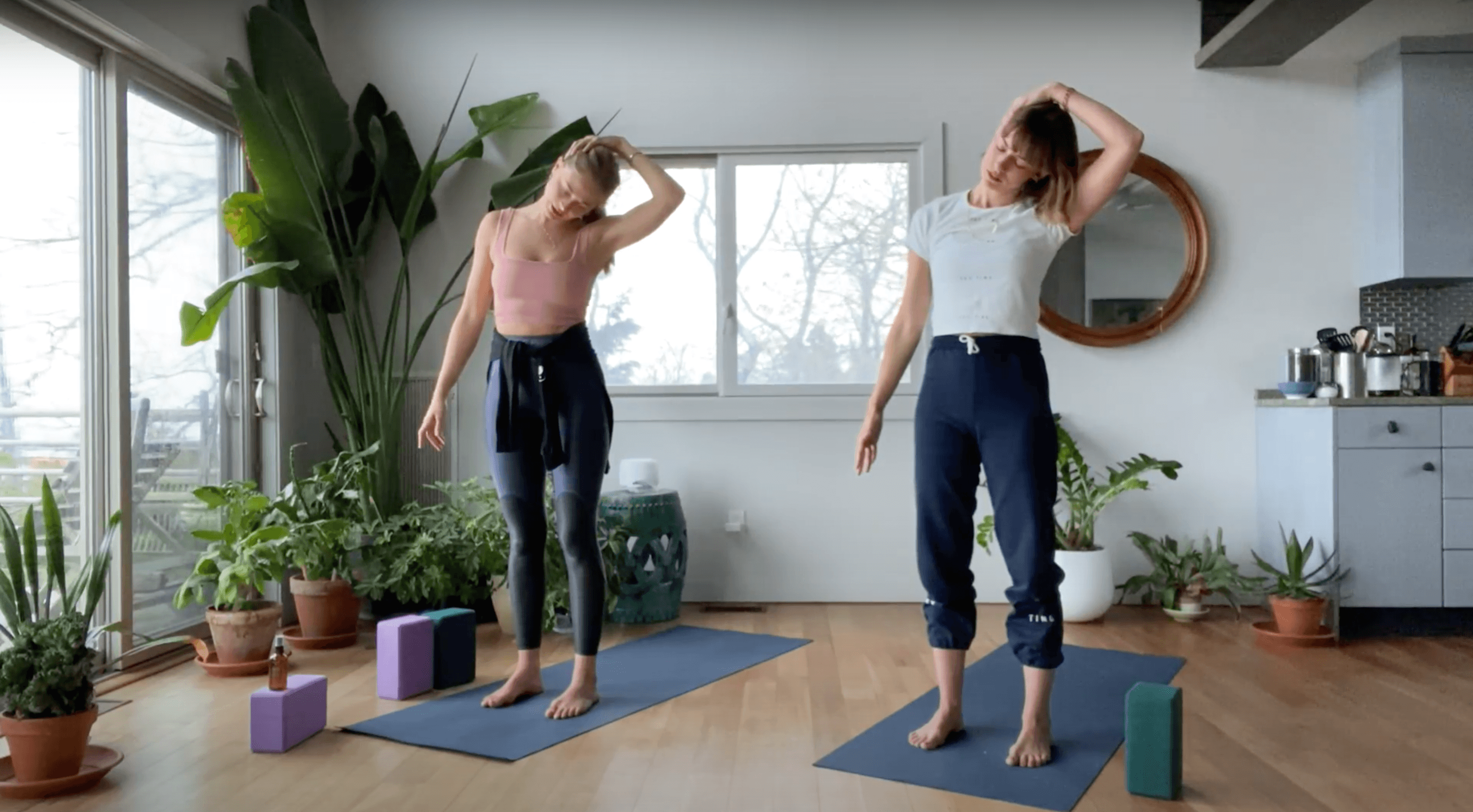 Yoga Is For… Headaches
Co-founders Krissy and Chloe of New York yoga studio SKY TING take us through a mix of therapeutic postures and gentle flows to ease headaches, using breath to help flush out the system and alleviate tension.
Co-founders of SKY TING yoga studio in downtown New York Krissy Jones and Chloe Kernaghan have designed a class specifically to target headaches alongside use of MAGNESIUM EASE, our magnesium supplement that delivers 45mg in just three sprays onto the skin with its formula of high-quality magnesium chloride, de-stressing lavender oil and anti-inflammatory arnica oil. Together the three ingredients efficiently aid relaxation and reduce muscle tension.
Research has shown magnesium may be effective as an acute treatment option for headaches including migraines, tension-type headaches and cluster headaches. The interaction between stress and headache/migraines has been studied extensively, with one study confirming a triggering role of stress on headache, and another study suggesting that "the stress-migraine interaction is likely the individual's responses to stressors, rather than the stressors themselves". This in itself suggests that harnessing the power of how we react, and reducing the frequency of how often we experience "fight-or-flight" mode may regulate the physiological responses in headache and migraine-like the change of blood flow that causes pain signals to fire. One of the ways in which we can effectively manage stress is through yoga, which has been shown to have positive effects on a psychophysiological level, and even increase productivity.
"In more moving, energetic vinyasa styles of yoga, you stimulate blood flow through all the linked movements of the body," say Krissy and Chloe. From standing up to forward folding, from doing an inversion to lying on the ground, from backbending to forward folding and then twisting the spine from left and right, you pick up the heart rate, play with circulation, build up heat, and utilize your breath. All of this helps to stimulate!" For this targeted class, they encourage blood flow via a mix of therapeutic postures and gentle flows, using breath to help flush out the system and alleviate tension, while incorporating a few helpful techniques to target headaches specifically.



"A lot of times, headaches come from us spiralling mentally with our thoughts and to-do lists and stress, so pour your mental energy—or chitta as we call it in yoga—into your body and into your breath. Listening to your breath helps soothe your soul and soothe your nerves. It's really nice if you're struggling with any mental tension to take away any of the sensory input so you can close your eyes for basically the whole class if you want to." says Krissy. 


For forward folds, she advises "relaxing your neck muscles; the weight of your head will help to drain out some of that muscular tension which could cause headache. It's nice to flip yourself upside down from time to time—you're helping blood flow to the brain with the help of gravity. The brain is 20% of our blood capacity in the body so when you have a headache, you want to help to make that flow easier." 
Try the
Yoga Is For Headaches
class
here
.