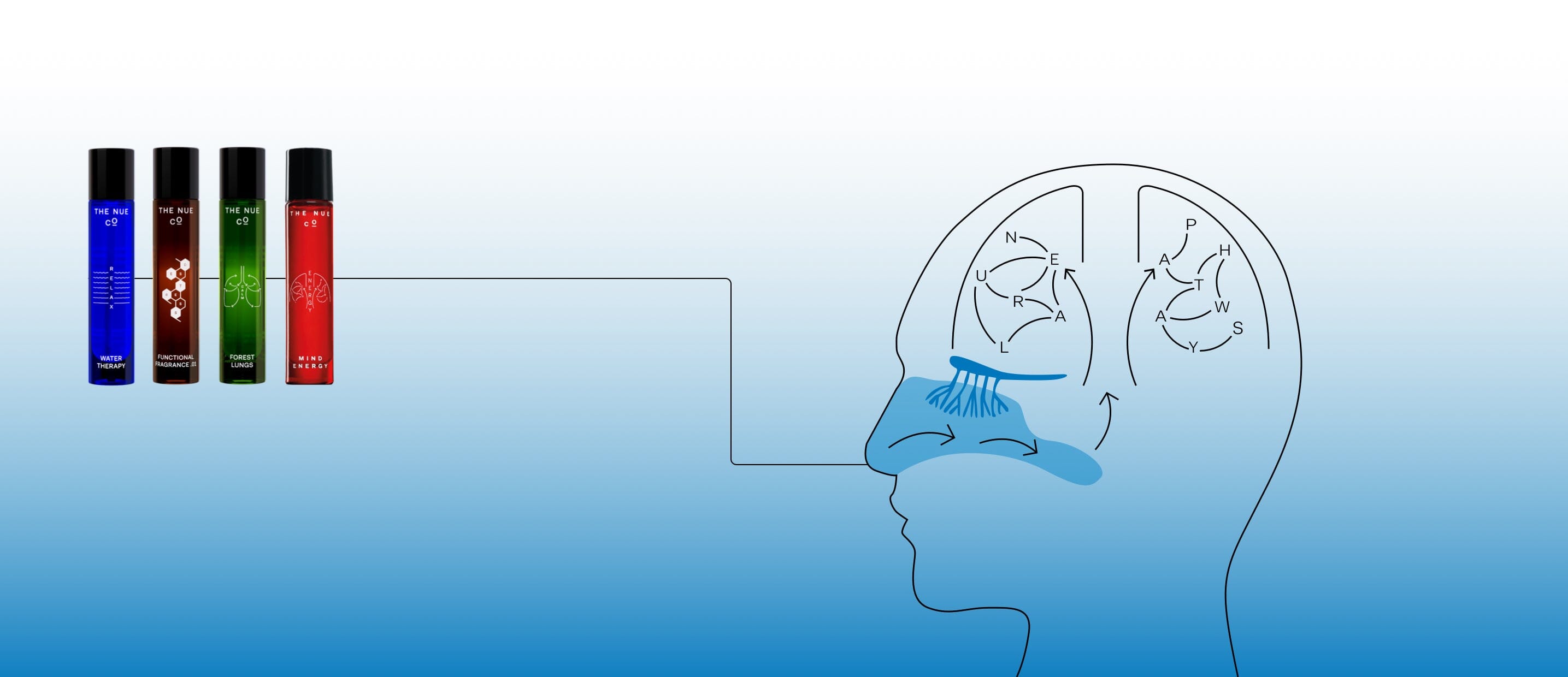 Does Functional Fragrance Work?
The science behind scent.
Fact. We are 100 times more likely to remember something we smell over something we see, hear or touch.
Think your ex's cologne. Sea air and summer memories. The smell of home. Every scent evokes a feeling. But why?
Our olfactory system (sense of smell) is directly connected to the part of the brain that manages all of our emotions. Research suggests our sense of smell is so strong, that it is the only fully developed sense a fetus has in the womb. Another recent study shows that in the short term we remember just 1% of what we touch, 2% of what we hear, 5% of what we see and 15% of what we taste, but 35% of what we smell.
The Nose Knows
Your nose has approximately 450 olfactory receptors. They are responsible for the detection of scent and send a signal to the brain to "decode". This first arrives at the olfactory bulb, a part of the brain that processes the signal. Then, it passes information about the smell to other areas closely connected to it, collectively known as the limbic system. This is a set of structures in the brain that scientists believe contribute to controlling mood, memory, behaviour and emotion.
The limbic system is made up of 3 main areas. The orbitofrontal cortex signifies awareness. The hippocampus is linked to memory. The amygdala helps us categorise different smells in our mind, and is directly associated with our emotions.
Are you thinking what we're thinking? It's time we use this super sense to our advantage.
Functional Fragrance
More than a nice-smelling scent, a functional fragrance is perfume with purpose, promising to alter your mood in a matter of minutes. Whether you need to relax and destress or focus and re-energise, these formulas work with the olfactory system to stimulate neural pathways, so they can get to work, fast.
"The idea is that there are certain parts of your brain that respond to certain senses," says our VP of Product + Sustainability, Flo Glendenning. "Different families of scents make different parts of our brain react. For example, woody scents tend to be very calming for us, whereas citrus ones tend to stimulate a different part of our brain which acts as a form of invigoration – I like to think of it as like giving a shot of energy to a particular part of the brain."
Fragrance marketing has long been about selling a feeling. In the past, messaging has been around sex, glamour and confidence. But in a post-Covid market, consumers are increasingly more conscious about what they're buying into, particularly in the beauty and wellness industry. People are looking for formulas with multiple benefits to support their daily wellbeing. Functional fragrance has been slowly building in this category, with a variety of benefits to choose from. An instant way to enhance mood, while smelling great, too.
Google "functional fragrance" and The Nue Co. will appear more times than we can count. Featured in titles from Wallpaper to Allure as pioneers of this new fragrance category, we have deep-dived into the science to bring the best results to our formulas. But how do they actually work?
The Invisible Scent Note
Aside from finding a unique blend of scent notes to evoke a certain feeling, we also include a blend of volatile organic compounds to each functional fragrance we make. In the case of our new scent WATER THERAPY, we included 4 compounds which are naturally found in aquatic environments. These VOCs act like an invisible scent note at the heart of the formula, and perform a functional benefit alongside the scent notes you can smell. They trigger the brain's neurological connection to blue spaces, transporting the body through scent memory.
Scent Backed By Science
To make sure every functional fragrance we create garners tangible results, we put each one through rigorous testing before it comes to market. Our very first scent, FUNCTIONAL FRAGRANCE, was created using the Geneva Emotion and Odor Scale (GEOS), a groundbreaking study around the power of scent on our emotions. Using neural image processing, the study mapped how specific scent groups affect cognitive function. Once the scent was finalised, further testing and results showed that 30 minutes after use, 96%* people felt instantly calmer.
Choose Your Functional Fragrance
Need to relax or boost concentration? There's a scent for that. Scroll to find yours.
Destress with FUNCTIONAL FRAGRANCE
Created using research from the University of Geneva's Brain & Behaviour Laboratory, our soothing blend of palo santo, bergamot and coriander resets moments of high stress, instantly.
Shop FUNCTIONAL FRAGRANCE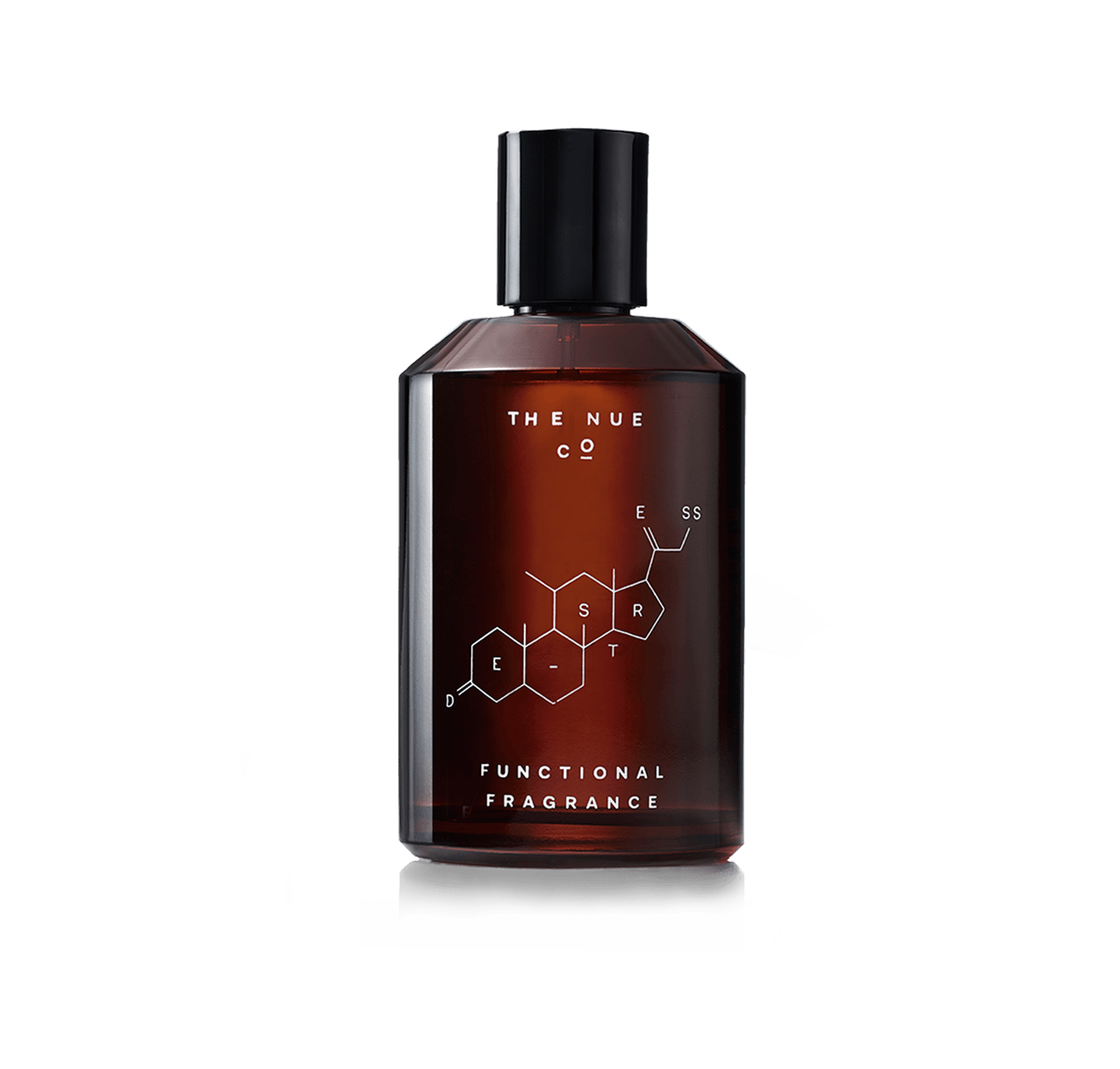 Your anti-stress fragrance supplement with calming green cardamom and coriander.
Focus with MIND ENERGY
Your fuel for thought. Spicy clary sage, juniper and pink peppercorn clear mind fog and enhance cognitive function in one spray. Pair with NOOTRO-FOCUS to support long-term brain health.
Reset with FOREST LUNGS
Forest bathing, bottled. A green, woody scent that stimulates the parasympathetic nervous system by replicating phytoncides, molecular compounds produced in forests proven to reduce anxiety.
Relax with WATER THERAPY
A dose of blue medicine. This aquatic hit of scent notes has been engineered for relaxation, using olfactory technology to replicate the sensory feeling of being in or around water.
Can't Decide? Try FUNCTIONAL FRAGRANCE DISCOVERY SET
A set of all 4 travel-size functional fragrances in our line-up, one for every mood.
Shop FUNCTIONAL FRAGRANCE DISCOVERY SET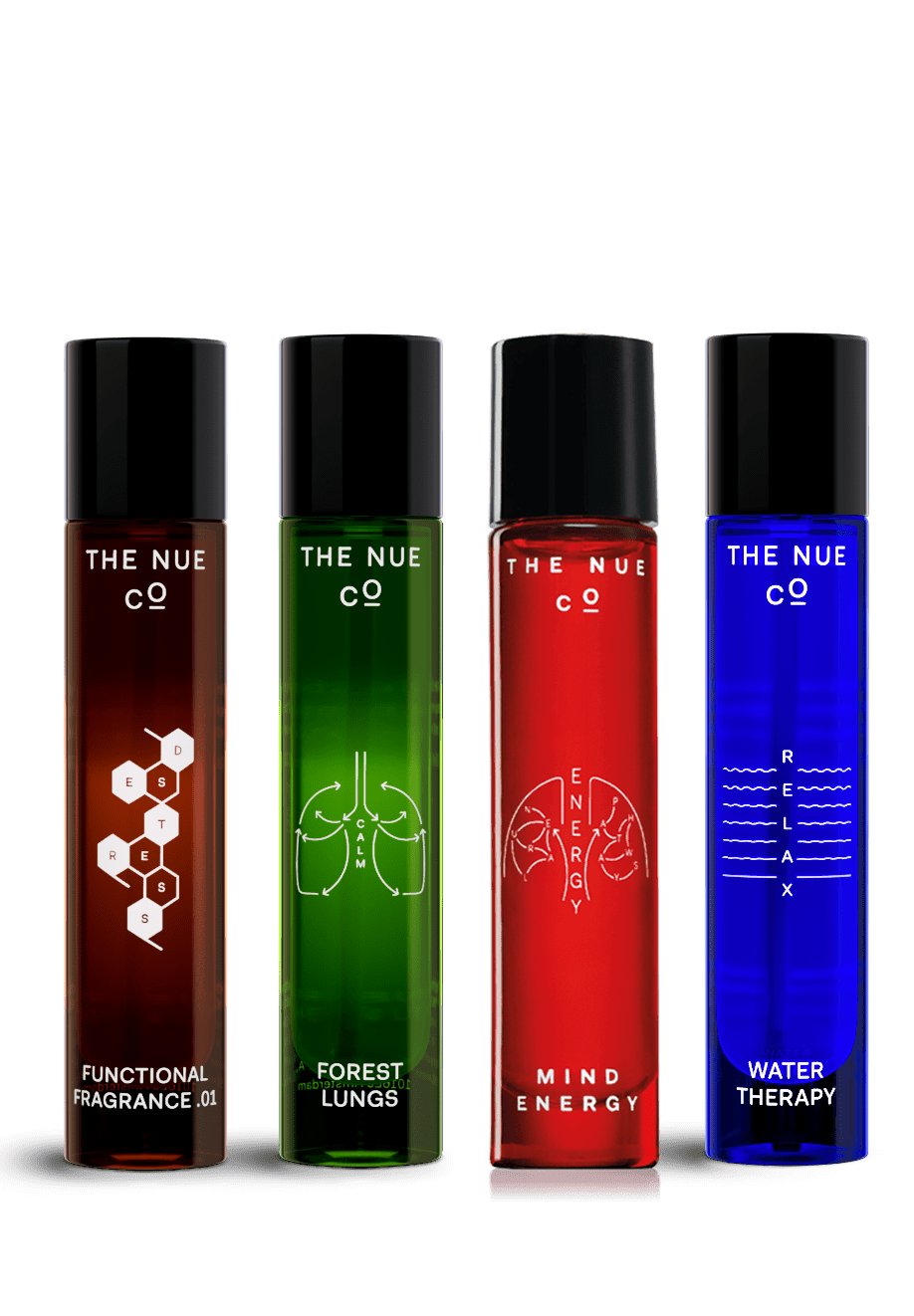 Your scent wardrobe for every mood, featuring patented olfactory technology.
So, can a fragrance really impact your mood? We think the results speak for themselves.
*Research conducted by The Nue Co. in October 2018 with 50 respondents.