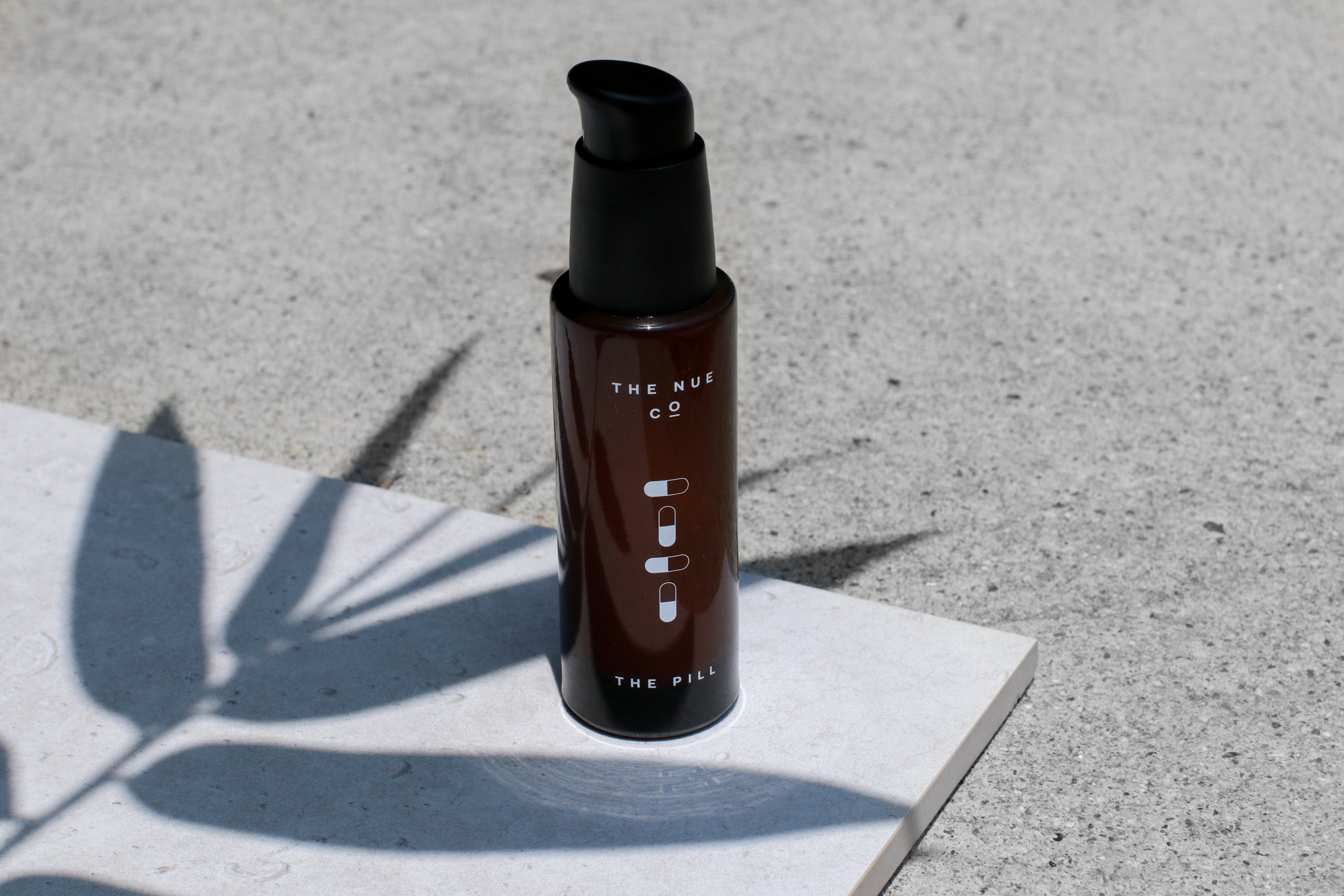 Inside THE PILL new all-in-one serum
With 27 non-toxic ingredients, we explain how our latest topical supplement uses the power of collective action for a formula like no other.
How thoroughly do you read into what's in the products that you apply to your body? It's not uncommon for cosmetic skincare to contain long lists of unpronounceable ingredients that translate as synthetic fragrance, silicone, parabens and phthalates. These can often be doing more harm than good by blocking pores, potentially leading to hormone imbalance and harming the environment—which is why we will never include them in our supplements.
We wanted to do things differently by creating a topical supplement that focuses on the long-term health of your skin, while instantly improving its appearance, with ingredients that each have a true function.
THE PILL uses a combination of scientifically-backed ingredients alongside natural extracts to deliver results you can see fast. Using the power of collective action, we've created a powerful yet gentle formula that exfoliates, hydrates and tightens skin in just one daily dose.
Here's a run-down of the effective ingredients we've used to help change the appearance of your skin in three minutes and the health of your skin within six weeks.
EXFOLIATING 
Glycolic Acid: An alpha-hydroxy acid (AHA) derived from sugar cane. Of all AHAs, glycolic acid is the simplest in structure and the smallest. It also has the lowest molecular weight, meaning it's easy for it to penetrate your skin and deliver results. 
Tiger Grass Extract: A popular K-Beauty extract which stimulates collagen synthesis to improve skin firmness, elasticity, and fine line reduction. It contains active compounds, including madecassoside, which serves as an antioxidant. It has been shown to have potent antioxidant properties and to be a rich source of amino acids, and there's additional research showing that it's a good hydrating ingredient to soothe upset or compromised skin. It's most well-known for its wound-healing abilities.
Lemon Extract: A natural, mild exfoliating agent and source of citric acid, another AHA.
Kakadu Plum Extract: Used traditionally to help soothe irritated skin, the extract is a potent source of Vitamin C, E and antioxidants. It helps to brighten and soothe the skin. 
Pineapple Extract: This exfoliant has antioxidants and skin-soothing properties, particularly from the enzyme Bromelain. Bromelain is an enzyme-rich in carbohydrates and α-hydroxy acids (AHA) responsible for the moisture-rich properties of this fruit. The AHAs also help to reverse the appearance of dull, dry skin and help skin cell regeneration for improved elasticity. 
Sugarcane Extract: A natural exfoliant which can smooth and brighten skin's appearance.
HYDRATING 
Hyaluronic Acid: Binds moisture in the skin which boosts hydration and plumps surrounding tissues to help reduce the appearance of fine lines and wrinkles. Hyaluronic acid can improve the appearance of fine lines and wrinkles and improve skin hydration within 15 minutes of application and is clinically proven to decrease fine lines and skin roughness after eight weeks. 
Glycerin: A natural humectant which helps attract and retain moisture in the skin, mimicking the skin's NMF (natural moisturising factor) by maintaining its barrier against external aggressors. 
Lactic Acid: An alpha-hydroxy acid (AHA) derived from fermented sugars which focuses on gently exfoliating the skin, and helps the skin retain moisture leaving it bright and even. 
Sodium PCA: Our skin naturally contains PCA (pyrrolidone carboxylic acid), but as we age, these levels drop quite considerably. Sodium PCA hydrates and helps replenish skin, by holding several times its weight in water. Not only a humectant, but also considered to be hygroscopic, meaning it has the ability to absorb moisture from the air. 
Larch Tree Extract: It helps to increase skin cell turnover and can reduce transepidermal water loss (TEWL) by maintaining skin barrier function. TEWL is the measurement of the water loss from a body that passes through the skin epidermis through diffusion, which then evaporates. Reduction of TEWL (i.e. lower TEWL readings) indicates that the skin barrier is more effective in retaining moisture in the skin, allowing it to feel more moisturised. 
Passion Fruit Extract: A skin-soothing plant oil which improves the appearance and feel of dry skin. It's also a good source of lycopene, an antioxidant.
TIGHTENING

Liquorice Root Extract: Thought to have anti-inflammatory benefits, it can also help soothe and smooth skin.
Caffeine: Constricts the blood vessels on the surface of the skin, instantly reducing puffiness and tightening. 
Isoamyl Laurate: A lightweight, plant-based oil that leaves a non-sticky, velvet-like 'second-skin' feel to the complexion. 
Grape Seed Extract: High in antioxidants and omegas which help to reduce damage from free radicals, as well as firming and evening the skin tone. Traditionally used in skincare for thousands of years, it's known for its anti-inflammatory properties.
Shop our new all-in-one serum THE PILL now.